40-year old greenhouse has bright future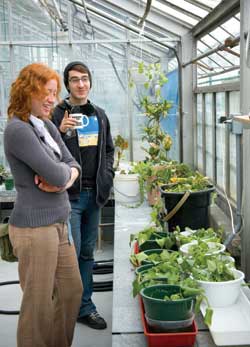 Sustainable Concordia hosted a Garden Party to let people know that the 40-year-old greenhouse on the roof of the Hall Building is ready to bloom again.
Student Alexandra Hall enthusiastically described the steps that led from the university abandoning the space four years ago to the April 12 party where students, faculty and staff could enjoy refreshments in the newly reopened facility.
The relocation of the Biology Department to Loyola and the cost of maintenance were two of the reasons the greenhouse closed.
Sustainable Concordia worked with members of Facilities Management to ensure that the structure was sound. They also discussed ways to revitalize the space while diminishing its cost.
The greenhouse is actually a series of separate west-facing glass rooms along a corridor. The entire project is under the responsibility of the department of Geography, Planning and Environment. Department Chair Alan Nash was at the party, snapping photographs of the dozens of people who arrived to see the potential.
The space is now managed by a committee of two students, two faculty, two staff and two members of the community at large. Together, they determine which project submissions are viable and allocate space accordingly.
Hall is one of the student representatives on the committee. So far, they have approved three projects. The first is related to Geography professor David Greene's work on tree seedlings and forest regeneration.
Melissa Garcia-Lamarca, Concordia's Sustainability Coordinator said that Louise Hénault-Ethier is doing Master's research on vermicomposting and developing a composting system for the university. Worms and materials will be available for sale, as well as plants, to generate revenue for the greenhouse.
Finally, the People's Potato will grow seedlings in the greenhouse. This will help them get a jump on their Loyola vegetable garden, which provides the group with a lot of the food they use during the year.
Garcia-Lamarca hopes that the compartments will be filled with projects by the fall, when there will be more events in the space.