Picturing the secret world of girls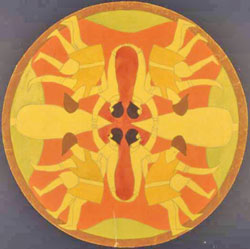 Annette Funicello once exemplified what Disney's Mouseketeers became when they grew up. Now that role belongs to Britney Spears and Christina Aguilera.
The changing image of girlhood and what its representations tell us about our expectations of young women was the premise of a symposium chaired by Loren Lerner, chair of Concordia's Art History Department, at the McCord Museum of Canadian History on Dec. 1.
The symposium was held in conjunction with the exhibition Picturing Her: Images of Girlhood, for which Lerner, as guest curator, assembled over 100 images and artifacts representing young women from 1860 to the present.
Many of the images came from the McCord's collection and Concordia's archives. Several of the more recent images were produced by Concordia faculty and alumni.
At the vernissage President Claude Lajeunesse remarked on how the event "celebrates the link between the academy and the art world, and demonstrates that Concordia wants to be part of the community around it."
The symposium packed the McCord's J. Armand Bombardier Theatre.
Kristina Huneault, research chair in Art History, considered idealized Victorian paintings "in which mothers are completely united with their children as the sole occupants of otherwise empty space."
Huneault's skepticism about these images was mediated by her own impending motherhood. She half-feared that she would discover "the Victorians were right on family values." Instead, she demonstrated a more nuanced depiction of motherhood in the works she discussed.
Loren Lerner discussed the role of daughters within families through allegorical images of Canadian identity.
She considered the work of Gustave Hahn, who planned a mural to decorate the parliament buildings at the turn of the century. In it, Mother Canada was surrounded by her nine devoted daughters, each one representing a province.
Lerner argued that even a century ago, the allegorical depiction of such uncomplicated familial devotion had already grown out of favour, and the project was never approved.
Annemarie Adams, of McGill's architectural school, considered how buildings constructed a century ago for women and girls (like schools, residences or convents) reflected ideas about the "separate yet connected" space young women occupied in society.
Women's buildings featured a strong link to nature, a place marginal to the main buildings and a designation of space that programmed the actions of those who occupied it, instead of allowing for flexible, or multi-use occupations.
Take, for example, Concordia's Grey Nuns building on René Lévesque Blvd. A century ago, more than 1,000 nuns, convalescents, girls and infants occupied the convent, which was set apart from nearby buildings by a large garden.
Art History assistant professor Martha Langford combed a photo album belonging to a young woman in pre-World War II Montreal for clues to the woman's life, relationships and circumstances.
Using the reactions of five other women to the album, Langford spoke of how the album conveyed memory and identity. Ultimately, she wondered at "how little of a life can be shown."
Anne Higonnet, an art history professor at Barnard College, Columbia University, addressed the image of childhood in her keynote address.
She juxtaposed the traditional notion of childhood as "romantic innocence" with more contemporary images of what she called "knowing childhood."
Higonnet said images produced since 1995 self-consciously deploy signs of childhood, like toys or school uniforms, in a staged, artful, even artificial, way.
"If romantic innocence represents the snapshot, knowing childhood suggests reflection and reconstruction."
Higonnet pointed out that in many ways, innocence is the exact opposite of art — or as Britney herself sang, "I'm not that innocent."