High profile speakers stop by campus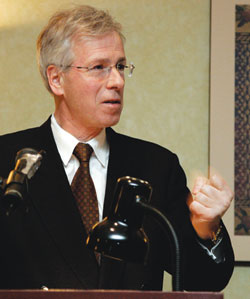 Then Environment Minister Stéphane Dion (left) spoke at Concordia on Jan. 12 about the UN conference on climate change held in Montreal last month.
Dion said if the government reneges on its commitment to the Kyoto Protocol, as PM-designate Stephen Harper has suggested, it will be a black eye for Canada.
The university has had a steady stream of interesting speakers lately. They included Paul Rusesabagina, whose dramatic story was featured in the film Hotel Rwanda, and then Prime Minister Paul Martin, who made an election speech on Jan. 14.
On Feb. 1, humanitarian Jean Vanier speaks on the Loyola Campus for the Centre for the Arts in Human Development.