Otakuthon set for Hall Building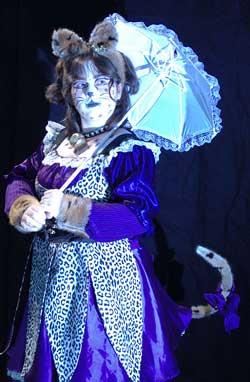 Otaku Anime of Concordia University will take over the Hall Building on June 10 and 11 with Montreal's first major anime convention.
Computer Engineering student and Otakuthon President Amanda Arrizza has been involved in the group for four years. Members from all faculties share an interest in anime art. Otaku is the Japanese word for fanatic.
Arrizza said that members have regularly attended similar events in Toronto and almost 50 volunteers are ready to put their experience into practice.
"We're the only university-based anime group [in the city], so we have a lot of resources available." There are well over 500 pre-registrants for the convention, which features screenings, vendors, origami workshops, Japanese tea ceremonies and a masquerade ball and J[apa-nese]Pop concert.
Volunteer Sylvie Laurin shows off her favourite character impersonation at a previous masquerade in the photo above.
Special guests include performer Matt Hill and artist Scott Ramsoomair. For info (and more masquerade photographs) visit www.otakuthon.com