Design students recycle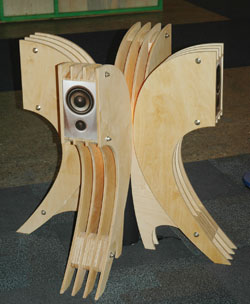 Place Bonaventure was the site of the 18th annual Salon International du Design d'intérieur de Montréal (SIDIM). Industry professionals toured the exhibits for the first two days (May 25 and May 26) before the exhibits were open to the general public.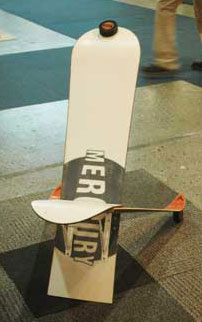 The Éco-vie section showed off a wide range of environmentally-conscious designs and projects. Students in Lydia Sharman's class in Design and Computation Arts were encouraged to produce work by repurposing objects. A special section of the display showcased their projects.
Among them was Carlos Beauregard's custom-made speakers,Vunusta Quadribitum (at right). The project, using recycled and new plywood, was constructed to echo the shape of the ear, and calls to mind old-fashioned gramophones. Meanwhile, Marc Biffaud used old skis and a snowboard to fashion a chair.
In addition, SIDIM spotlighted cutting-edge design and presented a special section devoted to design from African countries.