Cinema School celebrates filmmaking with festival and awards
Revamped and reinvented, the 33rd annual Film Festival of Concordia's Mel Hoppenheim School of Cinema ran from May 8 to 10 in the J.A. de Sève Cinema.
Due in large part to the vision of new Cinema Student Association (CSA) President and Festival Coordinator Tara Arnst, all 74 films this year were screened according to their style and theme, unlike past festivals that simply screened films one class at a time.
"It now has much more public access and it is much more of a festival," said Arnst, who recently completed her second year in film production.
This year's event has been met with enthusiasm across the board. Ryan Diduck, whose film, TER: A Tryptich in Four Parts, showed on day three, felt the CSA's changes "made for a great show."
Though the addition of a strong organizing and design committee helped reshape this year's format, it was just one of two initiatives the CSA had when they began brainstorming last summer. The other change was the need to reestablish the CSA as a critical line of communication between the students and the faculty.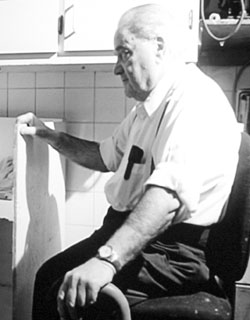 "I think [the CSA] has the potential to be the most important organization attached to the cinema school," said Cinema chair Richard Kerr. "Before, it was like stringing these [films] out like hotdogs. Now I think it reflects a greater degree of sophistication."
Running concurrently every year with the film festival is the Mel Hoppenheim Cinema Awards Ceremony. The lively affair took place May 11 in the J.A. de Sève Cinema.
Twenty-four awards were presented to students in the Animation, Documentary, Experimental and Narrative streams as a symbolic reference to the 24 frames of film that flicker within one full second of a motion picture.
"I selfishly put my name on this school so I can come up each year and get an injection of youth," said Mel Hoppenheim from the stage.
Hoppenheim was on hand to present an award in his name for Outstanding Achievement in Film Production to third-year student Alex Larose, who created a stir with some dazzling optical print work on his film, 930.
Notable mentions should also go to second-year film production student Dany Lurette, whose captivating photography work on several films earned him a production grant.
The Birth of Smoked Meat, which documented Montreal's legendary Main Deli and was made by second-year students Zoe Mapp and Jeanne Pope, was also great fun.
Those who missed the festival can catch this year's top films at Best of the Fest at the Cinéma du Parc on Friday, May 25, at 7pm.