Annual appreciation of long-serving staff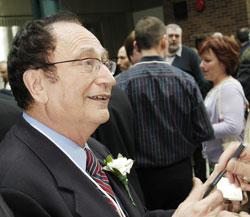 Dedicated service by 72 employees was celebrated May 9 at the Oscar Peterson Concert Hall. This is always a warm, friendly event — after all, they represent 4,880 years of service to Concordia University, so many of the guests knew each other well.
Rick Young, who came with his wife, admitted that he could hardly believe he had worked for the university for 30 years. He started as an apprentice plumber, and has risen to the post of Director of Facilities Operation. "I had no idea when I started that I would end up here," he said. "I was just a kid, fresh out of school."
Tamara Gulezko, who attended with her daughter, has worked for 25 years in Advancement and Alumni Relations. Department names, personnel, office procedures and bosses changed, but she learned to adapt.
Her advice for bosses in general? Treat your employees with respect, she replied.
Shirley Black has worked all her 20 years at Concordia in the Psychology Department, but she quickly added that she put in 20 years before that working in private business. There's no comparison between the two, in her opinion. The university engenders deeper loyalty because it offers better job security.
The featured speaker at the event was Henry Habib, longtime chair of the Political Science Department and still a popular speaker on Midde East affairs. He had taught thousands of students over the years. Some of them went on to become professors themselves, including Vice-President and Secretary-General Marcel Danis.
Despite the years, Habib said he has not lost his enthusiasm for his work, or for the institution.
Recalling that in his early days, there were only 800 students at Loyola College and 25 of the 30 teachers were Jesuits, he said, "We must never forget our founding institutions, Loyola and Sir George Williams. I'm proud to belong to Concordia. We have become the mosaic of the Canada of the future."
The Long-Service Reception celebrates employees in five-year increments. Those recognized for their service are listed below.
45 years / 45 ans
Henry Habib
40 years / 40 ans
Clarence S. Bayne, John T. H. Hislop, Luigi Sgrosso, Joseph Shin, Marilyn Sims, François-René Ullmann.
35 years / 35 ans
Frederick Bird, Jacques Castelletti, Malcolm G. Decarie, Dale D. Doreen, Terrill Fancott, S. J. Marc Gervais, Sup Mei Graub, Liana J. Howes, Nurul Islam, Natalie Kaloust, Marie-Christine Morel, Roderick Parsons, Oscar A. Pekau, Sylvia Ruby, Nagarajarao Suresh, Umanath Tiwari, Marie-Françoise Umbdenstock-Mu, Carol R. Vouzan.
30 years / 30 ans
Lois Baron, Zenon Borelowski, Norma Corris Cartwright Wagner, Donald Chambers, Elizabeth Chau, Sam Clement, Marjorie Ann Clendenning, Loni Cornax, Albano Couto, Benjamin Daniel, Karin Doerr, Janice Flood Turner, George Georgis, Bayram Zeki Gidengil, Beverley Glunt, Edward Hemming, Marvin Hershorn, Ellen Jacobs, Muhammad Jamal, Christopher Kowalewski, Wolfgang P. Krol, Donna Lefebvre, Dominique Legros, Jack Lightstone, Guy Lortie, George Lowenfeld, Susan Magor, Michael Marak, Sheila Mason, Hélène Mongenot, Kathleen O'Connell, Dorothy Ogonovsky, Bhuvan C. Pant, David K. Probst, André Prud'homme, Stephanie Roberts, Franc Rogan, Michael M. Rosenberg, Ronald E. Rudin, Warren Sanderson, Claude Senneville, William A. Sims, Juanita Smith, Bertram A. Somers, Alwin C. Spence, Ronald Stern, William-Kenneth Stevens, Thomas Waugh, Richard Young.
25 years / 25 ans
Asim Jawad Al-Khalili, Huguette Albert, Kamal Argheyd, John R. Blyth, Jacques Bourque, Sean W. Bradshaw, Sam Burstein, Bonnie-Jean Campbell, Christine Chan, Stanley P. Charbonneau, Maurice Charland, François-Xavier Cloutier, Roger Côté, Lina D'Iorio, Catherine M. Daigle, Susan Durkee, Helen Eng, Tamara Gulezko, Karin Hilker, Josef Hrib, Barbara Hultqvist, Moin Kermani, Rocco Lombardo, David McCluskey, John A. Miller, Francesco Nudo, Carolle Poirier, Brigitte Radecki, Barbara M. J. Rhodes, Judith A. Robinson, Christopher A. Ross, Darcy Sowden, Reginald K. Storms, Glen Thomas, Heather J. Thomson, Cameron R. Tilson, Phung T. Tu, Patricia Verret, Sara Weinberg, Stephen Wong.
20 years / 20 ans
Waizuddin A. Ahmed, Leslie Barker, John Barrett, Gabriel Baugniet, Shirley Black, Arnaldo Brunetti, Stephen Cabilio, John A. Capobianco, Leslie Cohen, Laura Cowan, Miranda D'Amico, Elaine Denis, Michael Di Grappa, Manuela Dohmen, Patricia Donahue, Lon Dubinsky, Andrea W. Fairchild, Nella Fiorentino, Mariana Frank, Douglas Gardhouse, Kelly Gheyara, Yves Gilbert, Gerard J. Gouw, Doreen Green, Ronald Grenier, Clara Gutsche, Fariborz Haghighat, Barbara Harris, Sandra Hoffman, David Homel, Nina Howe, John D. Howes, Linda Hull, Jesse Hunter, Renata Issley, James Jans, Rica-Judith Kalman, Robert Kilgour, Dennis Kira, Claudette Lavoie, Marcus Lawrence, Antonietta Martuccio, Shirley Ann Masterson, James McIntosh, John McKay, Jose Medeiros, Ashley Miller, Gaby Miller, Fassil Nebebe, Lynn Northrup, Susan O'Connell, Sheelah O'Neill, Silvy Panet-Raymond, Maria Paradiso De Bellonia, Helen Parent, Penney Pasdermajian, Eugene Plotkin, Maben W. Poirier, Christopher Quartz, Shelley Reeves, Patricia Rennie, Pascal-Andrée Rheault-Boisse, Denis Robert, Janet Rokas, Wendy N. Roscoe, Martin Rourke, Elizabeth Ruszkowski, Frances M. Shaver, Ken Singer, Matina Skalkogiannis, Olga Soares-Rodrigues, Gloria L. Thompson, Alain Turgeon, Giovanna Venettacci, Ngoc Lang Vo, Monir Wahhab, Joseph Woods.