Expo-Science fair a hit with kids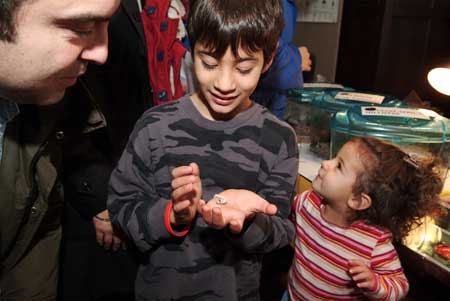 Nearly 1,400 people, most of them children with eyes wide as saucers, crowded into Stewart Hall, the cultural centre of Pointe Claire, last weekend. They were attending Expo-Science, the annual science and technology demonstrations by students, faculty and technicians from Concordia.
Above, eight-year-old Tristan Theofanous holds a silkworm while his father Jim and his two-and-a-half-year-old sister Charlotte look on. That's Tristan on page one, too, with a tarantula.
Hats off to the volunteers who gave up their weekend to bring their imaginative displays into the community. A particular hit this year was the mock-CSI forensic lab for young sleuths.
---
Bowling for scholarships
Everyone is welcome at the thirteenth annual Concordia University Bowlathon at the Rose Bowl Lanes on Nov. 26.
Organized by the Association of Alumni of Sir George Williams University, this is always an enjoyable Saturday afternoon, and no bowling expertise is needed. It starts at 12:30 p.m., and the bowling alley is at 6510 St. Jacques St. W.
Each bowler is asked to contribute $30 in pledges to support the Sir George Williams Scholarship Fund. For more information, call Alexander Robertson, at ext. 4397.
---
Professionals sign contract
The Concordia University Professional Employees Union, which includes about 300 staff members, has signed a collective agreement that extends from Oct. 31, 2005, to May 31, 2008.
The contract, which was negotiated over the past two years, adds step increases to the pay scales and puts a three-year limit on job security, among other changes.