CJLO to hit airwaves by spring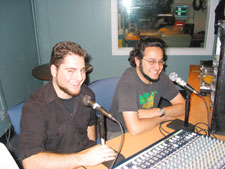 Following a hearing with the Canadian Radio-television and Telecommunications Commission (CRTC) on Nov. 14, organizers say it should be only a matter of time before Concordia's student radio station hits the airwaves.
As no one has filed a grievance about the application, which was filed in 2003, Station Manager David Caporicci-Urovitch said he expects CJLO to broadcast at 1690 AM starting this spring.
"We've been pushing on and on for this. We have something that's independent of what other radio stations in Montreal have right now," he said.
Program Director Alex Rabot suggested that those who crave diversity and are tired of commercial stations will certainly get their aural fix on CJLO.
"We wanted to have as much representation from as many different styles of music as we could. We pointed out that we would have world beat, jazz and country music in addition to the regular rock, pop and rap.
"This was the strongest point of our application," he said.
Both agree that CJLO won't be as talk-heavy as McGill's station, CKUT FM. Caporicci-Urovitch, who is also the station's (Heavy) Metal Director, said they will develop news and current events programming, but the focus remains on the music.
"We really have our ears to the ground," Caporicci-Urovitch said. "We try to showcase a lot of lesser known independent music, and local and Canadian content. It's something we've always excelled at."
Journalism professor Brian Gabrial said he is excited by the possibility of CJLO receiving its license.
"With such a diverse student population, a true radio station is long overdue here"
"Because Concordia serves such a diverse and remarkable student population, a true radio station is long overdue here. Also, a broadcasting licence gives the station greater credibility and hopefully generates greater student interest," he said
Caporicci-Urovitch said he hopes to forge links with academic departments. For instance, both he and Gabrial said that it makes sense for journalism students to play a leadership role in news and public affairs programming.
CJLO garnered another victory during the Concordia Student Union (CSU) referenda earlier this month when students approved its fee levy of 10 cents per credit.
This new fee will be collected starting in January, and is expected to inject nearly $100,000 per year into CJLO's budget, which currently sits at $55,000.
The extra cash will help deal with the costs of going live. The station must purchase a transmitter, pay rent on the land it sits on and cover its hefty hydro bills. It is also requires an equipment upgrade. These new purchases must be insured and maintained.
CJLO was born in 1998 when the radio stations of the Sir George Williams and Loyola campuses merged. Currently, it is only available on the web and in the Guadagni Lounge on the fourth floor of the CC Building at Loyola. Find out what's coming to your dial at http://www.cjlo.com