Racking their brains to create a bike-friendlier campus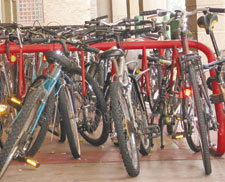 Hop on a bike and get to campus.
It's probably as quick as any other means of transportation. The exercise will do you good. Biking tends to be cheaper, even with cabs for emergencies, or public transit when winter settles in. And the environment will benefit from that much less exhaust. In other words, it's a good thing.
Yet of the 1,434 people (75 per cent of them students) who responded to an on-line survey on transportation usage, 80 per cent did not use bicycles, ever.
The survey was developed last spring through the Sustainable Concordia Project. The SCP partnered with the metropolitan transit authority in the Allégo project, which seeks to reduce reliance on automobiles as a primary means of transportation.
The results of this and other surveys assessing Concordia's accessibility and resources for cyclists and public transit users are available at allego.Concordia.ca/documents
Fifty-four per cent of those surveyed said they would increase their bicycle use if good quality, visible and adequate bike parking spots were available.
"The bike racks are always full," said Laura Brunet, emrolment services, who attended the Oct. 18 bike safety event in the library building.
Representatives from Tandem Montreal, the municipal police, campus security and the SCP were on hand for the bicycle safety awareness day. They all suggested locking habits and equipment which slow down, and discourage, potential thieves.
Currently there is one bike parking spot available on the Sir George campus for every 188 people who regularly use it. According to advocacy group Velo Quebec, that ratio should be 1 for every 20 people. When the racks are full, the alternative is parking meters or signposts.
"Parking meters just aren't safe, it's really easy to steal from them," said Alex Taler, a lab manager at Hexagram who regularly bikes to work.
Scott Prentice had his bicycle stolen years ago near the Hall Building. Now, he works on the Loyola campus and bikes far less regularly. Safety is the issue.
"I actually think the bike racks on campus attract bike thieves. It's easy to sit on a bench nearby and wait for good bikes to roll up," he said in an email interview.
Robin Black is a volunteer mechanic at Right to Move. The program offers bicycle repair, maintenance and security information from 6 to 9 p.m., Monday to Friday. Services are available to the 1,000 or so cyclists who have paid $20 for an annual membership fee.
Although not officially a Concordia program, space is offered by the university in the basement of 2150 Bishop St., accessible behind the Hall Building mezzanine.
"There is a really big bike theft problem in Montreal," Black said. For students who rely on their bicycles for transportation, replacement costs can be prohibitive.
There are a handful of indoor parking spaces available in the library building. These spots cost $1/day. Julie Laurin would like to see free indoor parking. Besides being safer, indoor space protects bicycles from the elements.
"Hydro-Quebec offers [employees] a fenced-in space in the back of the building with security cameras," Taler said. He added that security cameras alone will not stop theft, since the bike, and thief would be gone before anything could be done.
Ideally, he would like to bring his bike into his office. When he first began working at Concordia he did, but that is no longer the case since his office moved to the EV Building.
Ann-Marie Oliveira, security shift supervisor, said that bringing bikes in buildings is against university policy because of fire safety concerns. "Bikes are cumbersome and tend to be placed in areas that partially block exits or hallways." The bike security event was organized on her initiative.
The SCP intends to install several dozen more bicycle racks on the Sir George campus before the winter, with dozens more in the spring, according to program coordinator Melissa Garcia- Lamarca.
The style of rack is also a contentious issue. Prentice suggested offering a $1,000 scholarship to the engineering student who can design the best bicycle rack. "I'd gladly donate to the cause, and I'm pretty sure I could raise the money in a week's time."