Accolades
Andrew McAusland (IITS) was featured in the Sept. 16 issue of The Globe and Mail, describing in detail Concordia's successful voice-over IP (VoIP) network. He explained that after the university's installation of 4,100 IP phones, 5,000 more will be added within two years, up from the 3,900 analog phones and faxes the university had. He also noted that the IP phones can be plugged in almost anywhere on campus without moving lines or changing extensions. Additionally, portable computers can be set up to access the network with phone software and a headset.
---
The ninth annual Concordia Used Book Fair, held Oct. 3 and 4 on the mezzanine of the Hall Building, raised $7,261. Organizer Susan Hawke (Career Resources Centre) reports that over the past nine years this event has raised more than $60,000 for scholarships and the Multifaith Chaplaincy's Student Emergency Food Fund. Congratulations to those who donated books, and those who bought and sold them.
---
Particularly active were Distribution Services, Susanne Dragffy and Ken Bissonnette (Bookstore), the Office of the Vice-President, Services, as well as Helen Eng, Judy Appleby, Elaine Bruce, Sharon Morrison, Diana Maharaj, Jean Doehring, Barbara Barclay, Faye Corbin, Boi May Ang, and Laurie Kerr. Donations of books are accepted throughout the year. Books should be boxed, labelled "Used Book Fair" and dropped off at the Hall Building loading dock.
---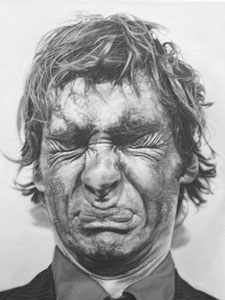 The inaugural Kingston Prizes for Contemporary Canadian Portraiture were awarded on Oct. 6, and a Concordia Fine Arts student was among the winners. Zane Turner came second for his striking portrait of Mark Ainslie (right), The rules require paintings to be by Canadian artists of Canadian subjects, painted from life within two years of the entry date. Zane's portrait and 29 others will be on view in the Firehall Theatre in Gananoque. Ont., until Oct. 29.
---
Irvin Dudeck (Financial Services) did a presentation at the Canadian Banner Users Conference (CBUC) in Saskatoon recently. He called it "A Day in the Life of Banner Budget Office."
---
Congratulations to two political science students, who were among 20 Quebec students recently awarded scholarships by the Fondation Desjardins. They are doctoral candidate Iqbal Shailo, who received $7,000, and master's student Elizabeth Cobbett, who received $5,000. We profiled Elizabeth in our Great Grads feature last year.
---
The European Behavioural Pharmacology Society Foundation has awarded its Distinguished Achievement Award to Jane Stewart, FRSC, a professor in the Department of Psychology and researcher at the university's Centre for Studies in Behavioural Neurobiology (CSBN). The award, which was recently announced in Barcelona, Spain, honours Dr. Stewart's contributions to research, teaching, and the promotion of behaviourial pharmacology in the community at large. Congratulations !
---
Claire Le Brun-Gouanvic (Études françaises) has a new book out. L'histoire de saint Thomas d'Aquin de Guillaume de Tocco is a new translation, only the second from the original Latin into French in nearly 700 years, of the first biography of St. Thomas Aquinas, a pivotal figure in Christianity. De Tocco knew Aquinas personally, and wrote this work after his death as part of the successful effort to have him canonized. Le Brun-Gouanvic first wrote a critical edition of the Latin manuscript (published in 1996). Her translation into French of her own translation has now been published by Cerf (Paris) as part of the series Sagesses chrétiennes.