Composite materials have a wide range of applications Suong Hoa (Mechanical and Industrial Engineering) was among those honoured at the ADRIQ (Association de la recherche industrielle du Québec) 2006 Prix Innovation gala. The Consortium for Research and Innovation in Aerospace in Quebec (CRIAQ) sponsored the project for which Hoa received ADRIQ's Prix Partenariat. The Project involved the participation of École Polytechnique, Bell Helicopter Textron Canada Ltd. (BHTCL), and Pratt and Whitney Canada. It was an integral part of a larger $2.2 million research program that relied on the expertise of collaborators from Delastek Inc., the National Research Council's Institute for...
Concordia Journal online


The Concordia Journal appears every two weeks, but daily news is always available from News@Concordia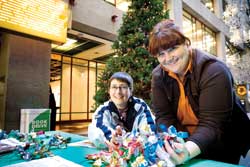 The big tree is up in the atrium of the J.W. McConnell Building (LB) until Dec. 12. Over the lunch hour, Multi-faith Chaplaincy invites you to decorate it with ribbons for a small donation. The money raised goes to the Student Emergency Food Fund, which helps hundreds of students every year. Above, Chaplaincy's Ellie Hummel and Tracey Fisher get in the spirit....