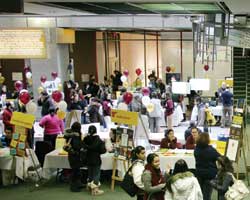 Robotic guitars, weaving looms, helicopter simulators and portfolio evaluations — the Open House held Jan. 27 had something for everyone. Nearly 2,500 prospective and current students flocked to Concordia to see what we have to offer. Shuttle buses took students between the downtown campus and Loyola. Displays took up more than 80 booths. Twenty-one information sessions and 34 tours took place over the course of the day. Hundreds of students, staff and faculty received curious visitors with open arms, and personnel from the services sector helped make sure that everything ran smoothly. The event is in its sixth consecutive year,...
Concordia Journal online


The Concordia Journal appears every two weeks, but daily news is always available from News@Concordia

The two shortlisted candidates for Dean of the John Molson School of Business will make presentations at the noon hour on Feb. 14 and 15 in H-110 of the Hall Building. Alain Noël is currently a professor of Strategy and International Administration at HEC Montréal, and former director of International Activities and Executive Training, also at HEC. He will present on Feb. 14. Sanjay Sharma is director of the CMA Centre for Responsible Organizations in the School of Business and Economics at Wilfrid Laurier University, in Waterloo, Ont. He is also Canada Research Chair in Organizational Sustainability, and a professor...