In Memoriam: Ed Enos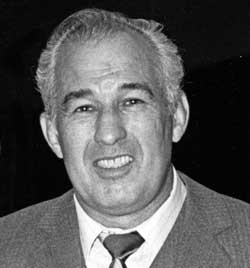 Ed Enos, a significant builder of the athletics programs at Loyola College and Concordia, died March 13 of heart failure at the age of 72.
Enos was appointed Director of Athletics at Loyola in 1965 and immediately launched a progressive and wide-ranging program. When Loyola and Sir George Williams University merged in 1974, he became Concordia's first athletic director.
Under his leadership, the Stingers varsity teams became highly respected in Canadian interuniversity competition. During his tenure a comprehensive intramural program was initiated and the Loyola Sports Hall of Fame was established. He was inducted into the Hall of Fame as a builder in 1998.
He was a founding chairman of the Concordia Department of Exercise Science, an associate professor of the department, an assistant dean of the Faculty of Arts and Science, and a member of Concordia's first Senate, but his greatest legacy may have been to persuade many people to lead healthier lives.
Enos is survived by his wife Janice and their three children, Ed Jr., Michael and Laurie, and grandchildren, to whom we extend our sympathies.