Students' Art Matters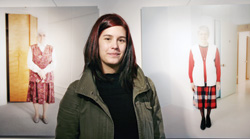 After an intense two weeks plus a weekend, the seventh annual Art Matters festival ended on March 16.
The event has blossomed from a student-initiated way to display work to a multimedia festival incorporating film, theatre, dance, photography, drawing, and painting.
Students' work is displayed in theatres and galleries, as well as stores and cafés around the city.
For intance, both of these images were take at Note Bene, a stationery store on Park Ave.
At top, Jacinthe Robillard poses in front of her photo series depicting the lives of the nuns of Ste. Croix.
Below, are images from Jasmine Bakalarz's photo essay on child beauty pageants.