Accolades
---
Kelly Norah Drukker, a Concordia alumna, came second in the Poetry category of the English-language CBC literary awards for Still Lives. Drukker grew up in the Laurentians. After getting an honours degree in English literature and creative writing in 1999, she lived on the isle of Inishmore, on the west coast of Ireland, for eight months. It had a profound influence on her work, which has been published in literary journals in Canada and New Zealand and will appear in A Room of One's Own.
---
Congratulations to Heather Birrell, who graduated from the English Department with an MA in English Literature (Creative Writing program) in 1999. Her short story, "BriannaSusannaAlana," won $10,000, the McClelland & Stewart Journey Prize, at the Rogers Writers' Trust gala in Toronto last week. It was published in the University of Waterloo's New Quarterly.
---
Lingyu Wang (CIISE) has published a new book in the series Advances in Information Security, Preserving Privacy in On-Line Analytical Processing (OLAP). His collaborators were Sushil Jajodia and Duminda Wijesekera.
---
A dissertation by Assistant Professor Ed King (Political Science) has been put forward by his department to the University of California, Berkeley, for the American Political Science Association's Leo Strauss Political Theory Award. His paper "Quinquennial Terror: Machiavelli's Understanding of the Political Sublime" was nominated for best paper in political theory at the 2006 APSA conference, held in Philadelphia in September.
---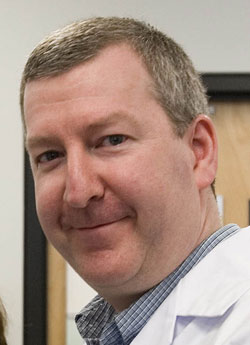 All three projects submitted by the Faculty of Arts and Science for research infrastructure grants to the Canada Foundation for Innovation (CFI) Leaders Opportunity Fund competition were successful, to a combined value of $551,562, which will be matched by the Quebec Ministère de l'éducation, du loisir et du sport (MELS). Congratulations to Michael Sacher (Biology, at right), Valter Zazubovits (Physics), Christopher Wilds and Louis Cuccia (Chemistry & Biochemistry).
---
Senior Media Relations Advisor Tanya Churchmuch was one of three judges of the Radio-Television News Directors Association (RTNDA) regional finals for Quebec and Ontario. RTNDA Canada is the voice of electronic journalists in Canada. The categories included overall television newscast, continuing television coverage, editorial on television news and use of new media. These winners will compete with the other regional winners at the National RTNDA awards in June.
---
The iconic band The Arcade Fire, getting rave reviews for their second CD, Neon Bible, includes three Concordia alumni: Richard Reed Parry (BFA 03), Regine Chassagne (BA 98) and Sara Neufeld (BFA 03). Rhonda Buckland, the mother of Jonas Tomalty, another popular singer, teaches in the Department of Applied Human Sciences.
---
President Claude Lajeunesse was on the jury of the Montreal Arts Council (Conseil des arts de Montréal), which awarded its grand prize for 2006 to the Compagnie Marie Chouinard, the contemporary dance troupe, for their piece based on Bach's Goldberg Variations. The prix Les Femmeuses given by Pratt & Whitney and the Council was given to Geneviève Cadieux, Faculty of Fine Arts.