Concordia Corner
Using data processing to produce meaningful text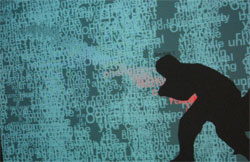 Publish or perish is the traditional academic dictum.
Jason Lewis is more interested in developing ways to make words swirl, change colour, fill screens and express themselves pretty much any way other than flat on a page.
His Obx Labs are part of Hexagram's space on the 11th floor of the EV building. There, he works with Design and Computation Arts students as well as those from Computer Science to "develop ways for creating and reading text in the digital environment. We are using data processing to produce meaningful text."
Several examples of this work were on display at Oboro Gallery earlier this year during a month-long exhibit. Each piece explored a different way to interact with digital text. A simple conversation is transformed into the speakers' silhouettes filling up with each other's words.
Lewis has also developed a keyboard that allows you to change the colour, size movement or interaction of words on a screen in front of you simply by pressing a key.
The team has managed to pack all of the computers, audio and video processors and the networking equipment necessary to transform speech into real time screen animation into a shipping container on wheels.
"We can bring it anywhere by plane or boat and just roll in and plug into the network."
Besides Oboro, Lewis has been able to bring his technology as near as the Black Box space in the EV building, where he had a residency last summer, and as far away as Sao Paolo, Brazil, last November.
Lewis has been exploring these themes for nearly a decade. The technology becomes more sophisticated with each iteration. "All of the software is built from scratch."
Lewis, himself a poet, has worked with text-based performers before — both spoken word and rap artists. His latest SSHRC funding is allowing him to work closely with three different writers (one each over three years) to produce collaborative works with each of them.
Lewis will invite each writer to visit in the fall to try out the equipment and get a sense of the possibilities. Then, after a period of reflection, he or she would return to negotiate a more concrete expression of his or her own writing in digital form.
"Writers don't necessarily treat language visually. It's not that easy to construct dynamic texts. Our software makes it easier for them to do so."
All of the writers Lewis has approached have been very enthusiastic about the opportunity.