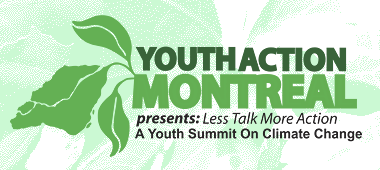 The first ever Youth Action Montreal (YAM) Summit dealing with climate change will take place on March 20-22 under the title Less Talk, More Action. The YAM summit was the inspiration of Concordia Political Science students Mohamed Shuriye and Peter Schiefke in the summer of 2006. "We recognized that the environment was a hot button issue," Schiefke said. As students, they saw the benefits of mobilizing students across the country. "Students are already involved in groups like Equiterre and Greenpeace, but there is no coordination," Shuriye said. So they brought the CSU, the Arts and Science Federation of Associations, R4,...
Concordia Journal online


The Concordia Journal appears every two weeks, but daily news is always available from News@Concordia

Imagine three and a half million tunes in your pocket. The Altix 4700 is not going to fit in your pocket, but that gives you an idea of the size of its 14,000-GB hard drive. The supercomputer, ranked the most powerful shared memory computer in Canada, and 155th in the world, with a unified memory 1,500 times that of a regular desktop PC, has just been installed at the Université de Montréal for use by the Quebec Network for High Performance Computing (RQCHP). Concordia joined the other four provincial universities in the consortium last year on the initiative of Associate...