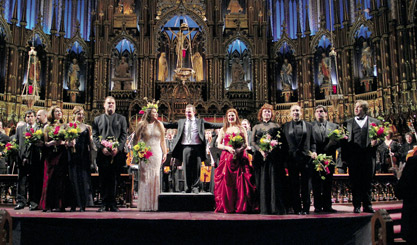 On May 6, Montreal's lovely Basilica was the setting for a benefit concert that raised $630,000 for the Faculty of Fine Arts and the Orchestre Métropolitain du Grand Montréal. The soloists included Maria Guleghina, Neil Shicoff, Bryn Terfel, Gianna Corbisiero, Marc Hervieux and Irina Mishura....
Concordia Journal online


The Concordia Journal appears every two weeks, but daily news is always available from News@Concordia

Every so often, even the most experienced teachers need inspiration, reassurance and new ideas. That's what 350 university and college teachers got at the Spirit of Inquiry teaching conference last week. The 80 short presentations ranged from the practical ("Teaching More Effectively and Spending Less Time Doing It") and the technological ("Clickers 201") to the conceptual ("The Art of Deception: Lies My Teacher Taught Me"). While the subtitle of the conference was Developing Critical Thinking, Creativity and Community, Emery Hyslop-Margison, a Canada Research Chair in education, gave a paper that was sharply critical of critical thinking itself. He said this...