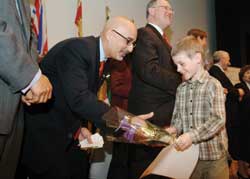 The 60th anniversary of the Citizenship Act was celebrated at Concordia on April 23 when 78 people, 22 of them from Concordia, became Canadians in the DeSève Cinema. Back in February, citizenship judge Barbara Seal was a guest at the Chinese New Year dinner given by the JMSB, and that's where the idea of having the ceremony at Concordia was hatched. An appeal went out to Concordia students, faculty and staff to come forward. Among them was Martin Martens, an assitant professor of Management, who was pleased that being part of the university's ceremony advanced his file by nearly a...
Concordia Journal online


The Concordia Journal appears every two weeks, but daily news is always available from News@Concordia

The Journal has changed its publication schedule for the 2006-07 academic year. Our final two issues will be May 24 and June 14.
Every faculty member knows about the endless hours spent putting together grant applications. However, help is at hand. That was the message behind a convivial gathering given April 23 in the Science Complex by the Office of Research for about 30 recent hires. Vice-President Research and Graduate Studies Louise Dandurand, Associate V-P Truong Vo-Van and Provost Martin Singer all emphasized their willingness and that of their staff to help faculty members build their own careers and Concordia's research profile. Director Garry Milton told them the Office is restructuring to become more proactive in an increasingly competitive and complicated research environment....