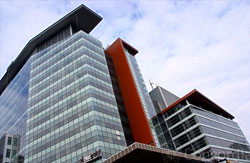 The official university enrolment numbers for Quebec have been released, and Concordia is attracting students. The numbers released by CREPUQ (Conférence des recteurs et des principaux des universités du Québec) indicate an overall dip in undergraduate enrolment across the province, and an increase in graduate enrolment. This is reflected in Concordia's figures. The numbers break things down by academic cycle and full- and part-time studies. Concordia has almost double the provincial average increase for brand-new full-time undergraduate students. "We are clearly attracting new people," said Brad Tucker, Director of Institutional Planning. "Of our sister universities in Montreal, only McGill and...
Concordia Journal online


The Concordia Journal appears every two weeks, but daily news is always available from News@Concordia

Sealing that envelope of scribbled comments and delivering it to the security desk may become a thing of the past. "Usually those evaluations are done in the last 10 minutes of class when students really just want to leave," said Danielle Morin, Vice Provost, Academic Programs. More and more schools are turning to online evaluations by students of professors' teaching. It cuts down on paper use and allows students to evaluate their courses at their own convenience. Concordia is moving toward online course evaluation as decided by the President and Provost. With the support of JMSB Dean Jerry Tomberlin, Morin...