Abstract art-and-music pas de deux wins a Genie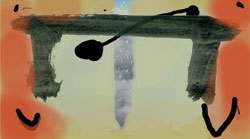 Chris Hinton's latest film, cNote, is an explosion of colour and spiky, dynamic modern music.
A National Film Board of Canada production, it just won a Genie in the Best Animated Short category. In fact, cNote echoes the great Norman McLaren, who also animated modern music.
"The film stemmed from my interest in contemporary music," Hinton said in an interview. "This music is what people are writing, and animators are not using it."
He asked Montreal composer Michael Oesterte to write a piece with no restrictions whatever. "I didn't want him to think about characters, timing — anything." He didn't even want to like the piece, just to create animation as its counterpoint.
The result is that "I can control your eye. I can set up an otherwise insignificant sound. With the animation, you're listening to a different piece of music."
Hinton has created over a dozen films, including Blackfly (1991), which was nominated for an Oscar. He has taught for many years in the Mel Hoppenheim School of Cinema, and is now using his animation in experimental work with dancers.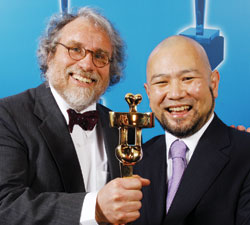 Another Genie winner was Louise Archambault, who earned both her BFA and MFA at Concordia. She got the Claude Jutra Award, given for the best first feature film, for Familia, a drama about two women and their daughters.
Meanwhile, Matthew Swanson, a graduate of the Mel Hoppenheim School of Cinema, has won two awards in the U.S. for his short film, Hiro.
Back in February, he won the audience award at the Slamdance film festival in Utah. Last week he picked up the jury award at the South by Southwest festival in Austin, Texas.
Hiro germinated while Swanson was still a Concordia student in 2002. It's described as "a fast-paced and witty film about a Japanese entomologist, a rare beetle, a girl and a couple of thugs."
The film is in Japanese, although Swanson doesn't speak the language. "Directing in a language you don't understand is liberating," Swanson told The Gazette's John MacFarlane.