A woman of words for the City of Words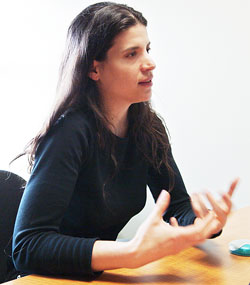 For Ingrid Bejerman, the youngest full-time member of the Journalism Department, good writing, inspired conversations and red wine are the essentials of life.
There is nothing that she enjoys more than indulging in informal discussions about literature with an interesting crowd, she said in an interview, and she makes no secret of it. But behind her joking and relaxed attitude lie years of hard work and an agenda full of contacts from around the Americas.
Bejerman decided to become a journalist when she was 14, as she was growing up in Brazil. Raised in a multilingual environment – she spoke Spanish at home with her Argentinian parents, English at her international school and Portuguese in the streets – naturally she was attracted to Montreal.
She moved to Quebec and completed an undergraduate degree in journalism and communications and another in French studies at Concordia.
She then returned to South America, where she worked at a major daily in Brazil, at the Foundation for a New Iberian-American Journalism in Colombia, an organization founded and presided by author Gabriel García Márquez, and at the University of Guadalajara, Mexico.
Year after year her work has focused on trying to bridge the gap between the academic world and journalism.
Since she joined the staff at Concordia last September, Bejerman, now 31, has concentrated on giving journalism students the theoretical background they need to back up their trade.
"Journalism is the best profession in the world," she said. "But one needs the critical skills provided by the academic background in order to be truly professional."
Although she considers herself more of a product of McGill University – where she concluded an MA and is now working on her PhD thesis in communication studies – Bejerman said she is honoured to be working with some of her ex-teachers.
"It is a good department," she said of journalism at Concordia. "There is a good mix of theory and practice, and everybody is always busy producing something."
When she is not explaining the work of philosopher Michel Foucault at the Loyola campus, replying to her students' emails, working on her thesis or teaching her weekly aerobics classes, she helps organize the Blue Metropolis literary festival.
The event, which sees the participation of renowned international writers, is one of Bejerman's favourite times of the year. "I plan my academic year around it," she said.
She has been involved in the programming committee since 2003, and she loves every aspect of it. With lectures and conversations held in at least 14 languages, the event is truly multilingual. Because it is not a book fair where authors go mainly to sell their books, visitors as well as writers participate to discuss literature.
And there's more to it too: "We all love good wine there."
Blue Metropolis started in 1999, developing from an earlier literary event co-founded by Linda Leith, a part-time teacher a the English Department. This year's program includes, among others, St. Lucia-born Derek Walcott, recipient of the 1992 Nobel Prize in literature.
The City of Words takes place April 5 to 9. For the full program, visit the Blue Metropolis website.