Hydro-Québec energizes research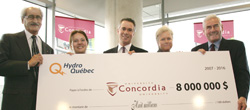 Concordia has just engineered a deal with Hydro-Québec that will bring $8 million to improve our research profile and the financial support available to our students.
"This $8 million is like supplying 80 million kilowatt hours of energy to the faculty," joked Engineering and Computer Science Dean Nabil Esmail. He added that he had personally calculated that figure. "The horse power generated from this infusion is only left to the imagination."
Just over half of the funds will establish two research chairs, one devoted to electrical energy conservation and the other to integrated building design.
"Energy conservation is the basis of sustainable development and it is critical now in the battle against climate change," said Hydro-Québec president and CEO Thierry Vandal.
"Concordia University is part of its community and wants to be pertinent," said President Claude Lajeunesse, talking about the importance of energy conservation. "This is the right place and the right time."
The engineering faculty has already demonstrated leadership in areas of energy conservation. We are the only Canadian university to offer a building design and operation program that focuses on energy efficiency. The faculty also includes the Solar Buildings Research Network, again with the support of Hydro-Québec.
The faculty itself is housed in one-half of the recently constructed EV Building, which was designed with electrical and venting systems intended to reduce its environmental footprint.
Dean Esmail pointed out that enrolment in the faculty has doubled since he became dean in 1997. Currently there are 4,000 undergrads and 2,200 grad students, "making it the largest graduate engineering faculty in Canada," he said.
The funding also offers several graduate and undergraduate bursaries for students in other faculties who maintain a 3.2 GPA.
The two researchers who will fill the chairs are expected to be named later this summer. Both positions are five-year appointments, renewable once, for a total of 10 years each.
Lajeunesse pointed out that this year has already seen $90 million injected into the university. The new JMSB building construction is forging ahead thanks to $60 million from the provincial government and an additional $20 million from the Molson family. The Desjardins Group recently announced $2 million for the business school as well.
Vice-President of Advancement and Alumni Relations Kathy Assayag said this sets the groundwork for Concordia's next major capital campaign.
The Hydro investment announcement was made at a gala reception on April 5, building on the partnership between the university and the corporation.