Fine Arts meets multiple challenges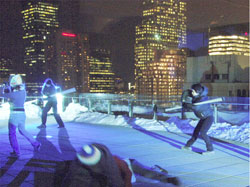 Dean Catherine Wild's presentation to the April 12 Board of Governors was punctuated with snapshots of the dynamic art going on in the Faculty of Fine Arts. One of the largest and most comprehensive faculties of fine arts in Canada, it continues to break new ground.
For example, new programs for a PhD in Film Studies and an MA in Music Therapy are ready for approval. MFA programs in development include Art and Technology and Performing Arts.
The Faculty is also developing inter-disciplinary initiatives with other faculties, such as the Centre for Inter-Disciplinary Studies in Society and Culture, established with the Faculty of Arts & Science, and projects for joint MBA and MFA degrees.
Fine Arts' first eConcordia course, Aspects of Canadian Art, will be given online by François-Marc Gagnon.
Fine Arts surpassed its own research goal of increasing revenues from standard federal and provincial grants for the year by 15 per cent. It enjoyed a success rate of 45 per cent in the SSHRC research/ creation competition, far above the national success rate of 27 per cent.
The Defiant Imagination Lecture Series with the Montreal Museum of Fine Arts continues, and a series of lectures will be held at the McCord Museum in conjunction with a PhD summer course on photography. The Canadian Centre for Architecture invited Arts and Science and Fine Arts to join the Institut de recherche en histoire de l'architecture (IRHA).
Departmental initiatives are encouraged, like the Department of Theatre's partnership with Park Extension Youth Organization and Teesri Duniya Theatre, that took students, faculty and community activists to Bangalore, India to do street theatre with Christ Church College's Centre for Social Action. (See Journal, Jan. 11, 2007).
Despite the successes, there are a number of important challenges facing the faculty. One is to implement a faculty renewal plan to sustain a critical mass of full-time faculty and support new program offerings.
Dean Wild pointed out that although undergraduate enrolment has risen by 47 per cent (from 1,461 to 2,150 FTEs) and graduate enrolment has risen by 60 per cent (from 137 to 219 FTEs), there are 111 full-time faculty members and 215 part-time teaching 52 programs. That is an increase of only 9 per cent in the full-time faculty complement over the same period.
Given upcoming retirements, FOFA will need to hire about 65 new faculty members over the next 10 years to obtain the full-time faculty complement of 125 specified in Moving Ahead, the university's academic plan.
Another major challenge is attracting and retaining graduate students. This is increasingly difficult due to the faculty's inability to meet the funding levels of its Canadian competitors. Fine Arts provides annual average funding of $1,800 per graduate student, while Queen's, for example, guarantees eligible PhD students $18,000 (minimum) per year and the University of Toronto offers $13,000 plus tuition and incidental fees. Fine Arts is working with Graduate Studies and the Advancement office to establish consistent funding for graduate students.
In terms of research, the goal is to increase standard federal and provincial grants and identify and calculate funding from other sources. The faculty is also encouraging team grants, particularly between different departments and faculties.
Although the new Fine Arts Advancement team has raised just over $2 million in cash, pledges and goods-in-kind to support graduate and undergraduate student awards, visiting lecture series, and various faculty and departmental activities, expanding the donor pool through public outreach, partnerships and increased communication is a priority. The involvement of the Fine Arts Advisory Board and reconnecting to alumni through public events as well as virtual connections are key.
As part of ongoing work towards consolidating activities on the downtown campus the Faculty is nearing completion of a space needs assessment. This will help with plans involving the Grey Nuns Motherhouse.
On the financial front, the faculty worked to eliminate its projected deficit for 2006/07 by cutting all operating budgets by five per cent, raising undergraduate class capacity by 10 per cent, severely limiting capital expenditures and putting hiring on hold. Dean Wild said that this couldn't have been accomplished without the support of all faculty and staff.
"The role of the Faculty of Fine Arts is to passionately champion the arts as a vital and strategic activity that shapes and reflects contemporary culture," concluded Dean Wild. Her presentation reflected a faculty that has done just that for the past 31 years and continues to creatively build its future.