Undergraduates vote in record numbers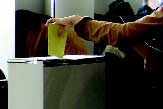 Eight thousand and one students voted in the annual election of the Concordia Student Union — a record, according to chief electoral officer Jason Druker. He told The Link that nearly 700 of the votes were spoiled ballots.
The winning slate by a comfortable 1,000-vote margin was Unity. President-elect Angelica Novoa is a vice-president on the current executive. The new executive takes office June 1.
Fees were raised for QPIRG, the public interest research group, and as we reported on page one, a levy of one per cent for sustainability projects was approved.
The students approved two referendum questions expressing opposition to increases in the recreation and athletics fee and ancillary fees, but these decisions are not binding on the Board of Governors.
Dean of Students Keith Pruden said a number of complaints were filed with Security regarding supporters taking down the posters of rivals. He called the atmosphere leading up to the vote "testy."