Arts & Science fêtes medical researchers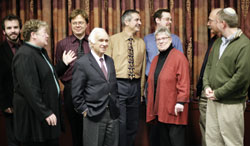 The results were so good, the Faculty of Arts and Science just had to party.
The celebration was in honour of our resounding success in this year's CIHR funding applications (see Journal, Feb. 8) and Concordia doesn't even have a faculty of medicine. It was a result that delighted Dean David Graham, who told those at the modest reception on the Loyola Campus how thrilled and proud he was. His delight was shared by Vice-President Research and Graduate Studies Louise Dandurand.
Assistant Professor Michael Sacher was the biggest winner. He had the top-ranked application in the field of biochemistry and molecular biology, and will be awarded a grant of $118,545 a year for five years, a total of $592,730.
Sacher works on identifying and characterizing factors that interact with the multisubunit vesicle tethering complex TRAPP. This is remarkably sophisticated cell research.
The rest of the CIHR recipients were from Concordia's powerhouse Psychology Department. Carsten Wrosch, an assistant professor, had the top-ranked application in the field of psychosocial, sociocultural and behavioral determinants of health. Wrosch investigates common age-related challenges, and benefits of self-regulation for the psychological and physical health of older adults. Distinguished Professor Emeritus of Psychology Alex Schwartzman, a mainstay of the Centre for Research in Human Development (CRDH), and Associate Professor Paul Hastings were top-ranked in the same field, winning $126,667 per year for four years, a total of $506,668. You can read more about their remarkable research on page 3.
Associate Professor Michel Dugas, who is also in the CRDH, was ranked fourth among successful applications in the same field. His grant is for $50,041 annually for five years.
Dugas studies subjects with anxiety, and the effect of cognitive-behavioral treatment on their disorder. As we told you in the Thursday Report on Oct. 7, 2004, he has developed an approach to generalized anxiety disorder (GAD) that is being used in several settings across Canada. GAD affects between four and six per cent of the population.
Associate Professor Andrew Ryder and Samuel Noh, from the Centre for Addiction and Mental Health Foundation, were ranked fifth, and will get $128,850 annually for three years. They are looking at somatic and psychological symptoms in Asian Canadians, and the role of cultural and individual differences in the psychopathology, assessment and treatment of depression.