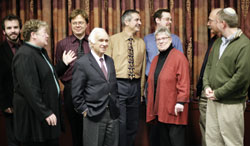 The results were so good, the Faculty of Arts and Science just had to party. The celebration was in honour of our resounding success in this year's CIHR funding applications (see Journal, Feb. 8) and Concordia doesn't even have a faculty of medicine. It was a result that delighted Dean David Graham, who told those at the modest reception on the Loyola Campus how thrilled and proud he was. His delight was shared by Vice-President Research and Graduate Studies Louise Dandurand. Assistant Professor Michael Sacher was the biggest winner. He had the top-ranked application in the field of biochemistry and...
Concordia Journal online


The Concordia Journal appears every two weeks, but daily news is always available from News@Concordia

Economist James McIntosh has good news. The key to academic success may be as simple as getting the appropriate encouragement. "Children from disadvantaged families are not condemned to be at the bottom of the grade distribution," McIntosh says in a recent paper. "In fact, children with poorly educated fathers can actually do better than average if their parents have positive education attitudes and praise their children when they do well." Many grown children of humble parents can attest to this, but it's nice to have it confirmed by econometrics. McIntosh's recent study, "Family Background, Parental Involvement, and Academic Achievement in...