Finding contemporary meaning in museum collections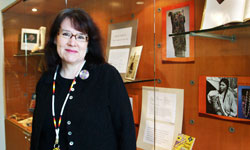 If a museum picture is worth a thousand words, what might a century-old beaded dress or pair of moccasins tell us?
That is the question that Sherry Farrell Racette poses whenever she encounters a new collection. "I look at museum collections as living objects that connect people to their history."
Farrell Racette, an expert on Canadian Aboriginal art, art historian, curator and practicing artist, is a member of Timiskaming First Nation. She spent most of her life out West, in Manitoba and Saskatchewan before joining Concordia's art history faculty last year.
She earned an Interdisciplinary PhD (Native Studies, Anthropology, History) from the University of Manitoba in 2004. The next year, she co-curated Clearing a Path: an Exhibition of Traditional Indigenous Arts showcasing contemporary artists working in traditional media for the Saskatchewan Centennial.
Growing up in western Canada influenced her interest in history. "In the West, history is very new. You can meet people whose grandparents were in the Riel Rebellion." That connection between the past and present is very real for Farrell Racette.
The recent media attention about Louis Riel's wedding suit underscored how exciting it can be. "There's always that constant sense of discovery. For any historian, new things pop up and you have to shift your thinking to accommodate them."
In fact, she says that museum practice has also been changing. "Museums are thinking more about their collections in relation to communities." Although the changes are slow, and not universally embraced, there are major shifts.
Within that changing context, Farrell Racette will be travelling to the University of Aberdeen with a group of Aboriginal elders and traditional artists. She has been invited to speak to museum curators in Scotland about the importance of their collections for contemporary Aboriginal communities. She will also visit other collections in the U.K.
The symposium was organized by University of Aberdeen's Alison Brown through her successful collaborations with First Nations scholars, elders and oral historians. Farrell Racette will be joining traditional artists Jenny Meyer and Jeannine Krauchi in teaching museum curators basic beadwork stitches and helping them identify different furs and other traditional media in their collections.
Farrell Racette notes that many important Canadian Abor-iginal works from the 17th and 18th century have found their way into European collections. She makes a point of studying these pieces whenever she's on the continent, "it's like visiting old friends."
Farrell Racette is finding a similar sense of connection now that she's back on the East coast. She credits Joan Acland with making Concordia one of the few universities with graduate level classes and the opportunity to do thesis work in Aboriginal art history. "It's lovely to just come into a situation after someone else has done all the hard work of developing a new area."
She has been expanding her contacts with traditional artists practicing locally. She is also impressed with the stellar lineup of Aboriginal artists and art historians that the Fine Arts Faculty has graduated over the years. She is looking to perhaps organize a show of their work next year. "Many of them have made significant contributions to the national Aboriginal art scene, I'd like to be able to honour that."