Poet Laureate John Steffler moves ahead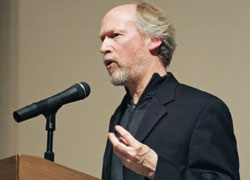 When John Steffler learned last month that he had been named Canada's Parliamentary Poet Laureate, he might have anticipated a quiet reception or a short report tucked deep inside the Globe and Mail. He never expected the kind of media frenzy usually reserved for American pop stars.
"It's been a bit hectic, to tell you the truth," Steffler confessed when he finally had a few minutes to talk. Steffler, currently Scholar in Residence in our English Department, read from his work after a reception on Jan. 5 at the DeSève Cinema. The event was hosted by Arts and Science Dean David Graham and English Department chair Marcie Frank. Graham was Dean of Arts at Memorial University in Newfoundland, where Steffler taught until his retirement.
Steffler said his move from Ontario to Newfoundland in the '70s "shaped the direction of my work. I found a different landscape, economy and language." Landscape remains an important theme in his work.
Ironically, the media whirlwind means that Steffler has not really managed to do much writing since the Dec. 3 announcement that he would be the nation's third poet laureate. Although he has five books of poems to his credit, he's actually working on his second novel; his first was published in 1992. He had hoped to finish it this year but that may no longer be realistic. "I usually write every day. I treat it like a job. I start at 8:30 or 9 and go all day."
According to the parliamentary web site, the Parliamentary Poet Laureate is given an office and budget for a two-year term. The poet laureate may be called upon to "write poetry, especially for use in Parliament on important occasions."
Steffler is not making any promises. "I think there is recognition that artists have a free point of view, and a free voice. Poetry isn't something you can turn on and off like a tap." In other words, don't expect any odes prompted by royal visits. "I would like to use the office and do some writing, see what comes from wandering around Parliament Hill."
Steffler sees his role less as a parliamentary spokesperson and more as an advocate for poets and artists in general. He is concerned about the type of recognition poets receive for their work, the funding available for the arts and with promoting the work of Canadian artists.
Towards this end, he's developing a special project that he hopes to achieve during his term. Steffler would like to create an online audio archive of Canadian poets reading their own work. "Right now I'm trying to track down the oldest recordings available, poets who are no longer living but have recorded their own work."
He's been in touch with experts at the National Archives and Libraries, and with CBC radio, whose vaults hold a wealth of recordings. So far, the response has been extremely positive.
"It looks as though they will get together and do this. If it does happen, I'll be extremely pleased, and proud."
He sees the project as a way to document and preserve the heritage of poetry in Canada. "Because poetry tends to be a shorter form of expression, think about how much can be packed into even 20 minutes of Gwendolyn MacEwen or Al Purdy." Steffler thinks the resource would be useful to teachers, as well as other artists.
And he still has time for teaching, despite these commitments. Steffler intends to return to his adopted home of Corner Brook, Nfld, for the summer, and he'll be back at Concordia teaching a graduate workshop next year.
Click here to see the Poet Laureate site.