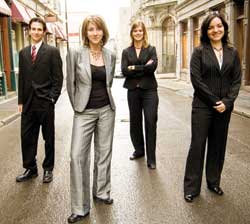 Most of us get back into gear slowly after the holidays, but those involved in the John Molson School of Business's annual International MBA Case Competition have to hit the ground running. "The students really are the stars of the show," said Klaus Kepper, who has been a judge for the competition since 1989 except for the years he spent in Europe. He is currently on the advisory board. The competition, Jan. 8 - 13, is now in its 26th year, and brings together 36 teams of MBA students from around the world. Each team can have up to 10...
Concordia Journal online


The Concordia Journal appears every two weeks, but daily news is always available from News@Concordia

President Claude Lajeunesse will take part in a study of the governance of Quebec universities conducted by the Institute for Governance of Private and Public Organizations. The mandate of the study is to assess current practices and challenges for the proper governance of universities in Quebec and elsewhere; assess principles and practices put in place to improve the quality of university governance in Quebec and around the world; and make specific recommendations that are likely to enhance the quality of university governance in Quebec. Lajeunesse is one of nine people invited to participate. Jean-Marie Toulouse, a professor at HEC Montréal...