Concordia Corner
Computer program keeps us comfortable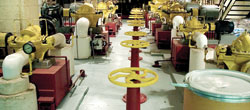 If you are reading this in your office, chances are, someone else knows that too. They may even know if you have your sweater on. Nearly 70 per cent of Concordia's two campuses are monitored through a state-of-the-art Direct Digital Control (DDC) system. This computer program relies on sensors and alarms strategically located around the university to report any anomalies in the heating and cooling systems. The system can keep track of which rooms are occupied with motion sensors.
If the temperature of your thermostat is off by one degree, one of 14 technicians who are responsible for the system 24/7 will receive a message on his Blackberry. The computer system maps equipment and connections and can help a technician pinpoint a problem on a screen before he goes out to repair it. The alarm system has different levels of urgency, depending on if the problem is a cranky machine or a major flood.
The DDC system can flag potential problems before they get out of hand, "If the temperature is wrong, that probably means a pump is malfunctioning. It's better to catch the problem right away than wait until 160 people call to say they're too cold," said Chief Engineman Stéphan Drolet.
Drolet has been at Concordia just a little longer than the DDC system. In fact, when the program was introduced in the early 1990s in the Library Building, Drolet installed some of the first control panels. Now, he runs the whole show from the central office downtown, adjacent to the boiler room.
As different facilities have been built, renovated or repurposed, the DDC system has been integrated. DDC technology is a given in the EV building, but it's also available on the 7th, 8th, 11th, and 12th floors of the Hall Building. It extends to Loyola in the CJ Building and Richard J. Renaud Science Complex, as well as the Oscar Peterson Concert Hall.
Although expensive to install, Drolet said the state-of-the-art technology pays for itself with the countless problems it can flag before they become serious. Eventually, all of the university's facilities will be hooked up.
Through the system, Drolet can monitor the sub-zero freezers in the Science Complex. These freezers hold research materials for a few dozen professors and graduate students. One student, whose samples are stored there, said that losing them would negate nearly three years of research.
If those freezers were to malfunction, the technician on duty would immediately receive the alarm with specific instructions on who to contact, day or night, and how to handle the problem.