Ici, on recycle
Province honours program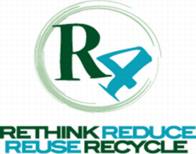 Concordia University has become the first university to earn the designation "Ici on recycle" from the Quebec government. The certification was acknowledged on June 8 at the Salon de l'Environnement in the Old Port.
Environmental/R4 Coordinator Chantal Beaudoin remembers when she didn't know much about sustainability. Now the graduate in International Business has her "ideal job," and has learned so much that outsiders call her for advice.
"My business degree is serving me well in communications and project management," she said.
Sue Magor, Director of Environmental Health and Safety (EHS), said that four years ago, her department put safety first and the environment second. That changed irrevocably when students conducted a sustainability assessment of the university in 2002. Now they're on a par.
"The students have completely bought into the concept," Magor said. Sustainable Concordia works closely with EHS.
There are many active shareholders in the effort, among them Facilities Management, Auxiliary Services, the Department of Geography, Planning and the Environment, the greenhouse project, University Communication Services and the West Montreal Readaptation Centre.