President Claude Lajeunesse has taken Concordia's message to City Hall. The message is that the university is deeply committed to the future of the city and intimately involved in its economic life. His visit to Old Montreal on June 12 was a dramatic way to present a new publication in English and French, Engaged in Montreal's Development (S'engager dans le développement de Montréal), to Mayor Gérald Tremblay. It specifically addresses the ways Concordia's researchers are focusing on industrial and technological challenges that give Montreal a competitive edge. Mayor Tremblay was in an expansive mood as he welcomed Chair of the...
Concordia Journal online


The Concordia Journal appears every two weeks, but daily news is always available from News@Concordia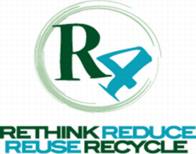 Concordia University has become the first university to earn the designation "Ici on recycle" from the Quebec government. The certification was acknowledged on June 8 at the Salon de l'Environnement in the Old Port. Environmental/R4 Coordinator Chantal Beaudoin remembers when she didn't know much about sustainability. Now the graduate in International Business has her "ideal job," and has learned so much that outsiders call her for advice. "My business degree is serving me well in communications and project management," she said. Sue Magor, Director of Environmental Health and Safety (EHS), said that four years ago, her department put safety first...