Thrifty designers make trash into treasures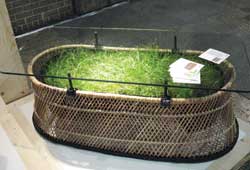 The assignment: Reuse the waste produced by somebody else, and do it with a minimum of waste. Incorporate used light bulbs, empty vodka bottles, scrap wood and used blankets into furniture that's sleek and usable. Show it to best advantage along one long wall of the exhibition space of Place Bonaventure. Design, deliver and assemble your exhibit on time. And don't be intimidated by the professional competition all around you. That's the challenge of Éco-Design.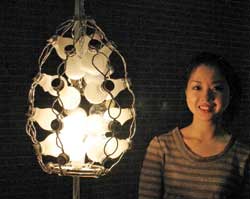 Every year, SIDIM (the Salon international du design d'intérieur de Montréal) provides Concordia's aspiring designers with a chance to produce an exhibit from start to finish and rub shoulders with professional designers from around the world.
The 10 students in Lydia Sharman's third-year course on designing for sustainability have made chairs, tables and lamps out of humble materials and lofty ideals.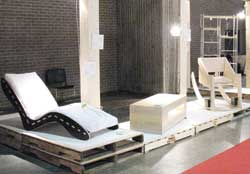 The objects, plus some items designed in a similar program at UQAM, was displayed in an exhibit the Concordia students designed using rough wooden pallets supported by spotlights on wooden columns, plus banners, and information cards. SIDIM was a three-day event May 24 to 26 that was open to the public on the final day.