Thorough research helped to identify another Stern canvas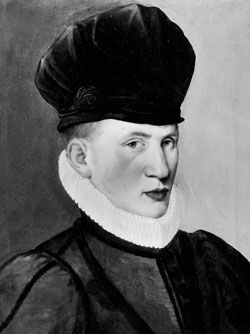 When Catherine MacKenzie set out to present history by curating the Auktion 392: Reclaiming the Galerie Stern, Dusseldorf last fall, she did not realize she would be making it.
MacKenzie, an art historian, curated the show that presented the final forced sale by the Nazis of the impressive Max Stern art collection in 1937. Her research led her to spot Nicolas Neufchatel's Portrait of Jan van Eversdyck (right) in the Yannick and Ben Jakober Foundation's collection in Majorca, Spain. She made the discovery while following up a misspelling in the foundation's online listings.
Auktion 392 opened in the FOFA gallery last October with only one actual painting, Aimée, a Young Egyptian. The canvas had been recently restituted to the Max Stern Estate, in part due to the efforts of Concordia's Special Projects Director Clarence Epstein. Aimée is on indefinite loan to the Montreal Museum of Fine Arts. This second painting will remain on permanent loan to the Jakober Foundation.
MacKenzie researched the almost 400 artworks which had been sold during that era, many of which are virtually untraceable because of destroyed and lost records.
Auktion 392: Reclaiming the Galerie Stern, Dusseldorf is currently on display in New York City at the Leo Baeck Institute. It was the show's opening on Feb. 27 that prompted the announcement of this second recovered painting, with the unveiling of a scale image of the work.
Stern moved to Montreal and left his assets to Concordia, McGill and Hebrew University of Jerusalem when he died in 1987.