CIADI students test their wings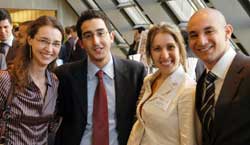 CIADI professors, aerospace executives, alumni and new graduates held their third annual dinner on May 11 at the downtown Sheraton Center Hotel. They had a lot to celebrate. Just look at the numbers:
The Concordia Institute of Aerospace Design and Innovation has grown from 26 students in 2001 to 141 in 2007. Its industrial partners grew over the same period from six to 28, and the budget grew from $350,000 to $3 million. The Institute is now conducting research on projects with aerospace companies in countries around the world.
CIADI was set up on the initiative of Adjunct Professor Hany Moustapha, a senior executive at Pratt & Whitney Canada, and Dean Nabil Esmail to provide "industry-driven, project-based learning" for Concordia undergraduates.
The participants come mainly, but not exclusively, from the Department of Mechanical and Industrial Engineering. To get into the program, students have to have the marks. But marks are not enough; they also need good communication and teaming skills. They work under supervision on site or in Concordia's labs, depending on the nature of the project.
A number of CIADI projects are credited as capstone design projects, i.e., central to the undergraduate academic program. Some of these preliminary industry research projects lead to graduate studies in aerospace as part of the Consortium de recherche et d'innovation en aérospatiale au Québec (CRIAQ). Some undergraduates also take part in CRIAQ projects.
As well as this focused work on specific industry projects, CIADI provides organized visits and tours to industrial partners and training on specific software programs as required by projects. Progress meetings are conducted every month to expose all the students to all the projects. They're offered short courses through their employers on aircraft, helicopter and engine design.
Students who participate in CIADI get involved in aerospace conferences and competitions. They also visit CEGEPs to make the Institute known to college students who are considering studying engineering at university. This year, for the first time, CIADI will award two $5,000 entrance scholarships.
The Institute's exchange program has also grown. Seventeen students are starting work this summer with NASA, the U.S. space agency, or with companies in Poland, Italy, Germany, Belgium, Portugal, Spain, El Salvador and Mexico.
Key to the smooth operation and steady growth of CIADI has been an advisory board. Its members keep the Institute informed about the expectations of the industry and act as a liaison with industry and government bodies.
The current chairman of the board is François Caza, Vice-President Engineering, Bombardier Aerospace. He and Moustapha, the founding director of CIADI, welcomed 250 people to the May 11 dinner, where the featured speaker was Dhanireddy Reddy, Chief, Turbomachinery & Propulsion, at NASA Glenn (Cleveland, Ohio).
Reddy's talk was preceded by presentations given by graduates who are already active in the aerospace industry, largely as a result of the CIADI experience. There were also presentations by executives from partner companies. Seventy Concordia CIADI students have been hired this year alone.