Best films filled up the house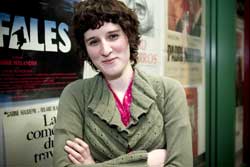 It was a familiar scene: Hip young Montrealers had their tickets in hand as they filed into Cinema du Parc. However, the films cued up that Thursday night were not by the usual international art cineastes, but reflected a significantly more local flavour.
The event was the best of the 34th annual Mel Hoppenheim School of Cinema Student Film Festival, as selected by a jury of MA students in Concordia's film program.
One film explored the role of intellectuals within communist Cuban society. Tara Arnst, president of the Cinema Students Association and director of Como la Vida Misma (Like Life Itself), spent three weeks in Havana filming scenes of public life, focused on the movie houses that dot the cityscape. Arnst's work began through a partnership between Concordia and the prestigious Escuela Internacional de Cine y Televisíon in Cuba (see the Journal, Feb. 8).
In addition to her work in the director's chair, Arnst has spent two years as the president of the Cinema Students Association and planned much of the year-end festival.
The screenings reflected the diversity of Concordia's film students, with works ranging from playful animation to conceptual meditations on sound and colour to the intensely personal. Each year the festival allows members of the public a chance to view the students' work. Equally important, the festival presents students with an audience eager to catch wind of up-and-coming directors.
In Tamara Scherbak's film, Dedashka, themes of memory by a Holocaust survivor were powerfully explored in an interview with her grandfather, set to the beat of a chess clock. The narrative was deliberately fragmented, leaving the audience to create meaning out of the close-ups of the elder Scherbak's face, the chessboard and his aged hands.
Dealing with the effects of familial trauma was also explored by Maxim Robin, in Sous Ma Peau (Under My Skin). Robin grapples with incest and rape by exploring an event in his own family history and its lingering effects.
"It's an experience people often describe: leaving their bodies after a rape," he says, explaining the symbolic importance of skin as cover in his film. Robin explores the meaning of skin using a variety of film techniques, including still photography, to animate the encroachment of vines that gradually cover the film's female protagonist. However, while the film finds its genesis in trauma, it is equally about healing.
"I wanted my film to address the question, How do you go back into your skin after a trauma like this? No one seems to be asking this question."