Emily has designs
ConcordiaWORKS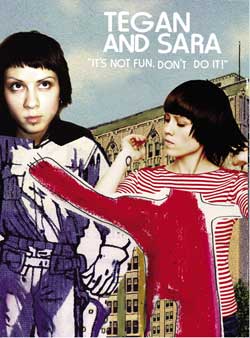 Google "ee storey" and you'll find all kinds of delicious recipes. Recipes for design, that is.
ee storey design is the creation of Concordia graduate Emily Storey. Doubling as an online store and portfolio, it is a virtual space for Storey to showcase her work.
Storey calls herself an "art directing, freelancing, web designing, merchandising, brainstorming ideas person." If that sounds like a mouthful, one glance at her past experience and client list shows that, at any one time Storey has a dizzying array of projects on the go: "Well, I had a DC shoe that I designed come out this spring, which was really cool. I'm working on album art for The Rentals, all the new art for Tegan and Sara's new record release, I'm getting a bunch of new products together for my online store and I'm writing a graphic novel." In fact, Storey's first project, fresh out of design school, was the 2004 Concordia Student Union handbook.
She has worked closely with a number of musicians and record labels in the Canadian music scene, including Neil Young's record label Vapour Records. She's also committed to working with non-profit and community groups like Montreal Certain Days Collective and QPIRG Concordia.
Storey majored in design art at Concordia's Department of Design and Computation Arts. She says her time at Concordia gave her the inspiration to explore her interests and to be a critical person. She credits professors Rhona Richman Kenneally, PK Langshaw, and sculpture professor Liliana Berezowsky for their encouragement.
"At the time, I was really interested in political art and design, and the way that visual work could impact social movements. Their classes had a really positive impact on me."
She believes that if she hadn't spent all that time developing her style in university, she wouldn't be doing what she is today.
You can find out more about this weird and wonderful world by visiting Storey's online portfolio and store at: eestorey.com/