Design in motion
ConcordiaWORKS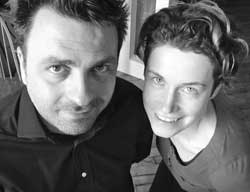 For Concordia graduates Salvatore V. Barrera (BA Communication Studies '93) and Sara Morley (BFA Studio Arts '94), Concordia is where their personal, creative and business relationship of 17 years was born.
The couple own Design Postimage (DPI), a studio specializing in (but hardly limited to) design for the film industry, and working in multimedia, web, print and motion design.
Their own website (www.postimage.com) just earned a Gold Horizon Interactive Award, the latest in a series of kudos.
Barrera and Morley met in 1990 while employees at Concordia's Multimedia Interactive Technology Environment (MITE) Lab, dubbed "the mighty lab" by those who worked there.
"Helen [Workman, the lab's director] wanted people to push the envelope of the technology as far as they could," recalls Barrera.
"These were things that were not being taught yet," explains Morley. "We often knew more than our profs about emerging computer technology."
"At the time, the notion of 'multimedia' was still being defined," says Barrera. "The only people who knew about it were the people actually doing it."
Two other members of that team are still associated with DPI. Phillip W. Greene is the company's interactive designer and web developer. Scott Prentice, who is Computer Systems Coordinator for the Comm Studies Department, acts as a web consultant for DPI.
If the lab enabled Barrera and Morley to hone their skills, the people they met at university helped them create opportunities to apply those skills.
Today, Barrera is DPI's motion designer and resident geek, and Morley is the studio's creative director. Their work has ranged from Film in Quebec, an interactive web-based archive of potential film locations aimed at Hollywood producers, to print, web and motion graphics presentations for the MUHC campaign and A Day in the Life of an Engineer, which they did with the Native Access to Engineering Program.
Most recently, they've created the titles and print campaign for Where Are You Going, Moshé?, a Morocco/Canada co-production being launched at the Film Market in the Cannes Festival in May.