Red wigglers munch on coffee grounds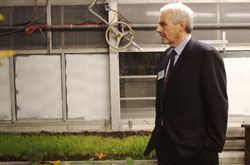 Concordians have a serious caffeine addiction.
That was one of Louise Hénault Éthier's conclusions when she was auditing our waste last year. "We went through 250 bags of garbage at the Loyola cafeteria and 6 per cent of the contents were coffee grinds or coffee filters."
Hénault Éthier wasn't dumpster diving for fun. It's part of her Masters research, and part of her job as R4 Compost Coordinator at Sustainable Concordia. R4 (Rethink, Reduce, Recycle, Reuse) focuses on the development of concrete alternatives to landfill for the solid waste produced at the university. Its latest project, a vermicomposting facility in the Hall Building greenhouse, was inaugurated at the Worms in the City reception on Nov. 9.
Speaking to the students, faculty and staff in attendance, Vice-President Services Michael Di Grappa pointed out that the work done at Concordia is ground breaking. The sustainability assessment of the university carried out in 2003 was ranked "second out of 1,200 similar assessments reviewed by a University of Western Michigan researcher," and that the framework piloted by students here "is now being used by over 25 campuses across Canada."
He also underlined that the implementation of recommendations is resulting in significant savings to the university, "In 2005, waste disposal and transportation cost reductions plus in-kind volunteer work totaled $72,000." With transport costs to land fill currently at $120 per tonne (and rising all the time), the new vermicomposting project should up the savings even more.
The key components of the new facility are five million Red Wiggler worms. Every day each one of them will eat (on average) its own weight in organic matter. The food goes in at one end, and gets broken down, both physically and chemically, in the worm's digestive system. It comes out at the other end as … castings.
Worm castings mix with the remaining decayed food to form a particularly rich soil conditioner that has up to five times the nitrate, seven times the phosphorus, three times the exchangeable magnesium, 11 times the potash, and 1.5 times the calcium of regular soil. Compost produced in the greenhouse will be used there and by Grounds and Maintenance Services, resulting in even more savings for the university.
With an annual capacity of 24-tonnes, the vermicomposters are just part of a larger organic waste strategy. Chantal Beaudoin, Environmental and R4 Coordinator for Sustainable Concordia, said that waste audits over the last two years have indicated we produce about 160 tonnes of organic waste per year. The goal is to recycle about 100 tonnes by 2008-09.
She explained that only some of the waste can be safely composted; cooked food, meat, dairy and things like soiled napkins have the potential to introduce pathogens into the mix, so the R4 program is focusing on raw fruits and vegetables, coffee grinds and filters, and leaves, grass and flower clippings. "We can get the ideal mix of 50 per cent nitrogen-rich and 50 per cent carbon-rich food from these sources," she said.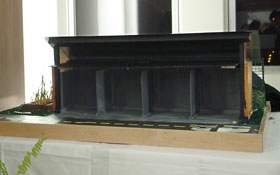 Composting capacity will expand next year with a significantly larger outdoor facility to be located on the Loyola campus. The new project will include 4 composting bays and a filtration pond. In keeping with Sustainable Concordia's focus on community involvement, the project has been designed by four environmental engineering students, Matthew Emery, Mireya Hidalgo, Jason Rhea and Andrea Spector, as their capstone design project. They unveiled a maquette for the site at Worms in the City.
President Claude Lajeunesse said he was extremely proud of the ongoing work of Sustainable Concordia as it provides opportunities that support the university's mission.
"What we do best is prepare our students to be good citizens. This is a critical aspect of the education we want to provide. Everyone involved in the project should be very proud."