Corporate governance impacts performance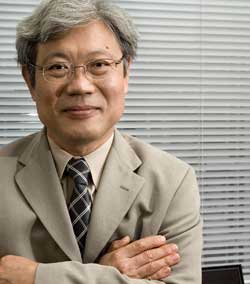 When Jeong-Bon Kim left a tenured position at Concordia 11 years ago for Hong Kong, he knew he would eventually come back.
So he is not surprised to be in an office just down the hall from his former digs, holding the Canada Research Chair in Corporate Governance and Financial Reporting.
Kim has been at the Hong Kong Polytechnic University. He had moved to be closer to his ailing parents in his native South Korea, but the time had come to return to North America to pursue his research.
Kim is interested in the impact corporate governance mechanisms have on corporate performance.
"I examine a company's governance strategy," Kim explained. He has been able to systematically draw connections between how corporations with solid governance practices tend to have a higher standard of financial reporting. Those with solid reporting practices, in turn, get lower interest rates from banks.
"Companies with high quality governance mechanisms have a better quality of financial reporting and can get external financing at a cheaper cost, which means overall better performance."
While in Hong Kong, he was able to explore his model in different national contexts throughout Asia, particularly Japan, Korea and China. "I start with the company and their cost of capital and governance strategies, then I expand the horizon to the international level."
His research identified the relationship between an ill-defined or ineffective legal system at the national level (which he thinks is the current case in those countries) and poor corporate governance standards.
Cases like the Enron disaster (and subsequent problems with their auditing firm of Arthur Andersen) lead popular opinion and media to blame auditing practices. Kim's work demonstrates that the problems lie much deeper.
Kim has been working on these issues with a network of like-minded researchers in Singapore, Hong Kong, Vancouver and Seoul. Kim acts as project leader, bringing combinations of researchers in his network together to produce papers on specific elements of the theory. "My interest lies in the linkage between reporting quality and the cost of equity and debt financing."
A paper he completed with three others exploring these issues through the multiple lenses of accounting, finance, economics and law was earmarked for possible publication by Contemporary Accounting Research. The work was so unusual and ambitious that the journal selected the paper as one of eight from around the globe that will be presented at their annual conference in Toronto next month.
Ultimately, Kim hopes to be able to identify how much regulation and external monitoring by independent auditors are optimal for responsible governance and good corporate practice. "But it takes time to develop the underlying theory. It is not easy to demonstrate systematic evidence."
Kim is also looking forward to working with graduate students and involving them in his research. He has already included at least one former PhD student in his informal international network.