CUTV café culture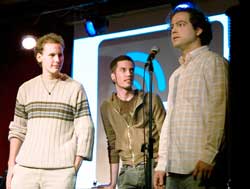 CUTV will soon break free of the confines of the Hall Building. The student-run TV station has partnered with non-profit wireless web provider Île Sans Fil and UQAM Internet Radio station CHOQ.FM to launch Hub des Artistes Locaux, aka HAL.
CUTV station manager Jason Gondziola is excited at the possibilities this project offers the station.
"It's a challenge for us to get people to watch our stuff," he said. "With six monitors in the Hall Building and our web site, it doesn't make for high traffic, high visibility."
The station has made attempts to expand its network in the past, but Gondziola says the results have been "lukewarm" at best.
He's hoping that HAL will change that. The concept is deceptively simple. HAL will be made available at selected Île Sans Fil hot spots located all over the downtown, Plateau Mont-Royal and Mile End areas.
At each of the hot spots is a 5-gigabyte server connected to the wireless router that provides access to the network. People using the Île Sans Fil network will be able to access HAL through their web browser when they log on. By launching iTunes, users will be able to browse through and access the content available at that particular hot spot.
"The interesting thing about this is it's geo-locative content," Gondziola said. "The content that people access at one spot will only be available at that spot."
The station has helped out the project by purchasing two of the 5-gig servers that will store the content. Gondziola believes that by getting CUTV's content out to the community at large, more people will be able to see what CUTV is producing these days.
"With the way it is set up too, we can rotate content to various hotspots," he said. "That way, instead of having five gigs of content at one spot, we can have one gig at five spots. Once we've rotated that content to all five spots, we can replace it with new content."
That's the whole point of the project, said Michael Lenczner, project coordinator for Île Sans Fil. "It's a new channel for people who want to get their art, their ideas out to the public. It lets people hear and see what others in their community are doing."
Lenczner and Richard Lussier, a project technician, hope to see HAL make a real impact on the community by bringing artists and "geeks" together.
"We want to encourage people to show their creative side," Lussier said. "There are lots of people who might come up with a song and record it at home, but then don't know what they can do with it. They now have a place they can put it where others can experience it."
The pair also noted the coincidence between their project's acronym and the acronym for the computer that goes crazy in Stanley Kubrick's film 2001: A Space Odyssey, HAL. The film was hailed for its combination of technical smarts and artistic vision.
CUTV is already set up to accept submissions from Concordia students. They will format and package any content they receive for the network.
There are currently 12 Île Sans Fil hot spots where HAL content is available. They are:
Laika, Café Arts, Café Pi, Café Tribune, Cabot Square, Café Pâtisserie Maèva, Cinémathèque Québécoise, Eye Steel Film, Palmyra Resto Café, Playwrights Workshop and Zeke's Gallery. For the addresses and to keep track of additions, go to www.ilesansfil.org
Lenczner said they plan to add HAL to another 13 spots by December.