Accolades
---
Joanna Berzowska (Design and Computation Arts) designs "wearable technologies" in the XS (Extra Soft) laboratory and studio in the EV building. Her stylish clothes, which can change colour or light up through external stimuli, were featured in The Gazette's business pages recently. She said that Montreal's retail garment trade infrastructure gives the city an advantage over places where making clothing is cheap but sophisticated technology is unavailable.
---
Russell T. Gordon (Fine Arts, retired) has a show, The 13020 Carrere Court Series, in the Wooster Arts Space, 147 Wooster St., New York, from Nov. 8 to Dec. 2. He was recently awarded a Rockefeller Foundation residency in Bellagio, Italy.
---
David Pariser (Art Education) authored a paper titled "Art from the valley of the shadow: Child art from the Theresin concentration camp." It was presented at the National Art Education Association Convention in Chicago. At the University of Maine, Orono, Pariser presented a paper on the benefits of blogging for student-teaching interns as they work in their school placements.
---
Adel Hanna (Mechanical Engineering) was widely interviewed after the Sept. 30 collapse of a major overpass in Laval. He said the cause of the disaster could be related to many things, from structural flaws to environmental effects. While he said there was no need for general alarm, he called for better, more frequent inspection of Quebec highways.
---
Nghi M. Nguyen (Building, Civil and Environmental Engineering) has accepted an invitation to share his international training experience in project management at the Project Management Institute's (PMI) Asia Pacific Global Congress to be held in Hong Kong in January 2007. His paper is titled "The Challenges of Transferring Project Management Principles and Methodologies to Developing Countries". He has been providing project management consulting on different types of projects and delivering associated seminars worldwide for clients such as SNC-Lavalin, CAE, the Canadian Space Agency (CSA), the American Society of Civil Engineers (ASCE), PMI; among others.
---
Sima Aprahamian (Sociology and Anthropology / Simone de Beauvoir Institute) was invited by the government of Armenia to the Third Armenian Diaspora Conference in Yerevan held Sept. 18 to 20. The proceedings were broadcast live and were covered in the Armenian media.
---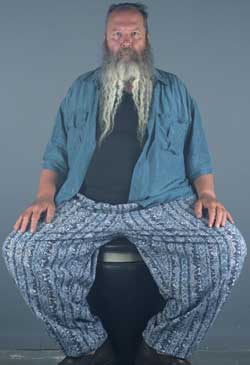 Photo Sélection magazine included four members of the Faculty of Fine Arts among 25 of the most influential figures in Canadian photography. Their photos appeared in the 25th anniversary issue of the magazine. Art photographers Raymonde April and Evergon (whose self-portrait appears at right) and photographic historian Martha Langford currently teach in the faculty, while photographer Gabor Szilasi is recently retired.
---
Frances Shaver (Sociology & Anthropology) was a member of a panel on the CFCF Sunday evening program On Assignment. She was invited to argue for the decriminalization of the sex trade on a panel during the show. She is a veteran researcher in the field.