International linkages being built and rebuilt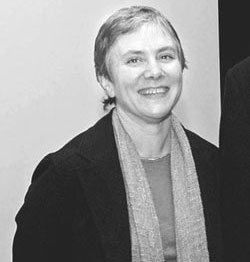 This year, close to 200 Concordia students are earning credit in Europe, China, India and Australia. That's almost four times as many students who studied abroad five years ago.
Meanwhile, Concordia received nearly 900 applications from students at partner universities who hope to put in some exchange time here.
Liselyn Adams was named Vice-Provost International Affairs just over a year ago. In that time, she's restructured the Centre for International and Academic Cooperation into Concordia International to support more students in their quest for an international education.
The Vice-Provost and Concordia International also help visiting professors and students coming here for specific research projects. In addition, they, along with the International Students Office, ensure that arriving students have the resources and clothes they need. "If they are only visiting for a short time, they have to be able to hit the ground running," Adams said.
Meanwhile, Adams has been updating the partnerships Concordia has around the world. Over the last year, she's weeded out some that simply were not working and begun to rebuild the network. Currently there are about 45 active partnerships, with another 20 to 25 soon to be renewed or established. By next year, she hopes to have 80 active partnerships established in about 30 countries.
Adams said some departments were not initially enthusiastic when she proposed international agreements. "But then I asked them what they would look for if they could add two new faculty members tomorrow." Once the gaps were identified, Adams could look elsewhere for the specific expertise that would best complement each department's current strengths.
Ultimately, she would like to see departments, like Political Science, Modern Languages and some in Engineering, develop an international component for their degrees. Students who meet the criteria could be eligible to combine certain courses with one term abroad to earn the international profile.
There is pressure to send more students abroad. Current-ly, the government only funds the university at 50 per cent for the number of students studying here from elsewhere, over and above the number we have sent on exchange. Every year the government suggests funding may be cut off entirely.
Ultimately, Adams is convinced that the value of an international education can be found in the personal relationships established across distance and cultures.
Adams travelled to India last January and discovered a common interest in horseback riding with an administrator at the India Institutes of Technology. Months later, she received a phone call from him wanting to finalize their agreement before he left for vacation.
She was also planning a trip and they began to share their plans. One thing led to another and the two of them realized they would both be in Savannah, Georgia, at the same time. They arranged to meet there.
They were able to finalize the partnership on Adams' laptop while they took a break from a riding outing.
Although the world is not always that small, Adams knows that the partnerships she is building around the world have a far-reaching impact.