Healing through art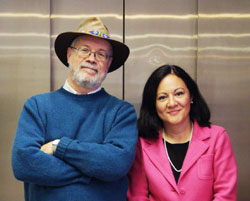 Stephen Snow and Miranda D'Amico, founding members of the Centre for the Arts in Human Development (CAHD), are finding others around the world who heal wounded spirits through drama, movement, music and art.
Snow, a drama therapist who teaches creative arts therapies, and D'Amico, who teaches educational psychology and special education, just attended a biennial festival of theatre and psychiatry at the ancient University of Padua, where Galileo once taught. There they were invited to present their research on assessment techniques and the efficacy of the creative arts therapies, and to show a documentary about their therapeutic theatre work.
They were particularly impressed by a group from Sri Lanka who create dances with tsunami victims, a jazz band from Belgium whose members have Down syndrome, and a theatre piece by African immigrants to Italy. Snow said that while creative arts therapies is a well-established field in North America, these practitioners in Asia and Europe had developed their techniques independently.
Snow worked with psychiatric and geriatric clients in New York City before coming to Montreal. Recently he has developed a working relationship with Frederick Hickling, the head of psychiatry at the University of the West Indies. Dr. Hickling developed a method called cultural therapy, by which people tell their own stories within a certain cultural/historical framework.
Snow and Hickling conducted a workshop for the McGill University Transcultural Psychiatry program that asked participants to express through movement, drama and music what it meant to have come to Quebec from somewhere else. They then repeated this workshop at Rutgers University, in the U.S., for the National Association for Drama Therapy.
From its beginnings in an art therapy program, Creative Arts Therapies has grown into a full department at Concordia, offering a master's degree. For over 10 years, students have honed their skills through the CAHD, which works with individuals with developmental disabilities. The CAHD has created some lively theatre productions that caught the attention of documentary filmmakers, including the CBC.
Snow is constantly trying to extend his reach. Several years ago, he worked with local impresario Sam Gesser in a year-long project with visually impaired actors. The CAHD has pulled in students at Venture School, a facility for youth at risk in Ville Emard, encouraging them to overcome their own awkwardness or anger by working onstage with adults with developmental disabilities.
While the CAHD is now in "the best quarters we've had so far" in Hingston Hall, it is hoped that in the near future the centre will have a permanent space that can accommodate the whole program.
The research conducted by Snow and D'Amico is focused on measuring the progress of participants in the CAHD. Among the skills they try to improve are "self-esteem, self-confidence, self-efficacy, increased communication skills, and overall general well-being as measured by Quality of Life indicators." Their research has given them insights into what disabled actors like to do, what they find difficult, and that mysterious quality called talent.
"We've had pretty positive outcomes," Snow said.
The ultimate goal is greater inclusion and quality of life for the participants at the CAHD.
Their work has been recognized by the American Association of Mental Retardation (AAMR). In May 2006, the CAHD received an award for its efforts in social inclusion for people with disabilities in the research and innovation category. The research will culminate in a book, Assessment in the Creative Arts Therapies, to be published in next spring. Snow and D'Amico are also launching a SSHRC-sponsored "participatory action performance" project this fall with the research team at CAHD.