Roméo Dallaire named Senior Fellow
Rally for Darfur slated for Sunday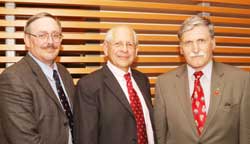 Senator Roméo Dallaire will become a working partner of the Concordia-based Montreal Institute for Genocide and Human Rights Studies (MIGS), under the leadership of history professor Frank Chalk.
Dallaire is now working for the United Nations Advisory Office on the Prevention of Genocide, and in that role, he will make use of the scholarship of MIGS and occupy an office at Concordia. He will have as his research assistant Major Brent Beardsley, who was with him on the ill-fated UN mission to Rwanda in 1994.
In return, Sen. Dallaire will give public lectures and share his vast expertise in the field with Concordia students.
At a press conference on Sept. 8, Dallaire issued a passionate call for increased involvement by Canada and the UN in the beleaguered Darfur region of Sudan, where three million non-Arab Sudanese citizens live in fear and abject poverty.
The Eurocentric approach to geopolitics has given way to the need for diplomacy in unexpected places where "extremism has pushed into the realm of the unthinkable," such as rape and the use of child soldiers.
"I felt we needed not just to react, but to move the yardsticks," Dallaire continued. "We need to know what's going on; we need information plus the discipline of academic thought."
Dallaire has two missions: to provide MIGS with expert assistance about genocide studies in his work with the United Nations Advisory Committee on Genocide Prevention, and to share his knowledge and experience combating genocide with Concordia and the public.
MIGS was founded by Chalk, a history professor, and Kurt Jonassohn, now retired from teaching sociology. Their book The History and Sociology of Genocide: Analyses and Case Studies (Yale University Press, 1990) is still in print and serves as one of the leading textbooks in the field. In 2005-06, MIGS organized conferences at Concordia on Democratic Discourse in a Multicultural Society and Canada and the Darfur Crisis.
Chalk talked at the press conference about his recent study of the tightly controlled Sudanese media, largely radio, which presents urgent visits by United Nations and U.S. officials as congratulatory. In fact, he said, the Sudanese government is giving its citizens the impression there is a "Western colonial Zionist-Masonic" conspiracy against them.
Concordia will sponsor a rally to support the Darfurians this Sunday at 2 pm, starting at the green space at Guy St. and De Maisonneuve Blvd. W. Participants are asked to wear blue hats like the blue helmets of UN forces.