Student docs, shorts win awards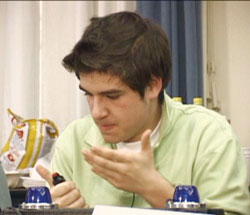 Concordia filmmakers stole the show at the 37th Canadian Student Film Festival, reeling in four of six awards at a ceremony at Complexe Desjardins on Aug. 30.
Held concurrently with the Montreal World Film Festival that wrapped on Sept. 4, this year's edition contained 54 selections from 16 schools across Canada, more than 21 of which came from students at Concordia's Mel Hoppenheim School of Cinema and Department of Communi-cation Studies.
Third-year Cinema students Jeanne Pope and Zoé Mapp received one of the night's two main prizes, the Kodak Imaging Award – which includes an all-expenses paid trip to the 2007 Cannes Film Festival – for their film about Montreal's legendary deli, The Main.
"When they announced the winner, I nearly fell on the floor," said Pope, who juggles filmmaking with being a single mother and a massage therapist.
The Birth of Smoked Meat was the result of teamwork, she emphasized, and would not have happened without cinematographer Glauco Bermudez.
Pope's first film, Where's Stanley? documented the life of the late Montreal sculptor Stanley Lewis. She also credits him as the inspiration behind Smoked Meat and an upcoming film about L. Berson and Sons, the headstone carvers of St. Lawrence Blvd. His atelier had been in the same building.
"He always said to us, 'You've got to do this film! It's going to be archival!' He was the concert behind them both. That was all in my head when we received the award: wishing he had been there to see this."
Perhaps no one was as shocked as the winner for Best Documentary, Aaron Hancox. Due to losing a cell phone the night before, he didn't learn he had won for his documentary about Montreal XXX mainstay Cinéma L'Amour until it was publicly announced.
"I thought to myself, 'Thank God I'm not winning an award, because I'd hate to give a speech right now.' And sure enough I got called up," he laughed. "I was humbled because I had seen a lot of the documentaries I was competing against, and was really impressed."
The fourth-year Communications Studies student said that no theatre clients were shown, leaving everything to the viewer's imagination. "I wanted to show it as a cultural institution on the verge of extinction," he explained.
"But it's also strange place with a strange subculture, so there's definitely an inherent humour involved."
Also winners are David Ferron, who took Best Experimental Production for Matière Grise, and Myriam Magassouba, who won in the Best Fiction category for Déjeuner du matin. Malcolm Sutherland picked up a special mention for his work that combines film with whimsical animation, Birdcalls.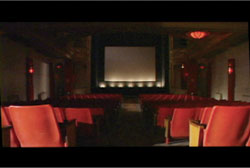 Cinema Chair Richard Kerr said he views festival wins as indicative of future success, but that any credit given is due only to the students for their robust showing.
"It's their intellectual property which just happened to be made in our classrooms," he said. "This is their success. I'm just glad they came here."