Accolades
---
Constance Classen, Concordia MA in the philosophy of religion and a lecturer in sociology and anthropology at Loyola International College from 1998 to 2005, is a visiting scholar this year at the Canadian Centre for Architecture. She will pursue a residency on "Beckford and Fonthill: Creating a Palace of the Senses." William Beckford (1760-1844) was an English novelist, art critic, collector and builder.
---
Rick Molz (Management) gave a paper at the Academy of Management of Professional Development Workshop in Atlanta, Georgia, titled "Doing Business in Developing Countries: The Uneasy Interaction Between Local Institutional and Global Economic Dynamics." He presented a paper at the European Group for Organization Studies meeting in Norway, and at other institutions, papers co-authored with graduate students Patrick Tarraf, Carol Ann Tetrault Sirsly and Wissam Al-Hussaini.
---
Murray Sang (Continuing Education) will serve a three-year term on a provincial committee on adult education. The 15-member body is run by the Conseil supérieur de l'éducation and provides advice to the Ministère de l'éducation.
---
Peter Stoett (Political Science) presented a paper May 19 on "Global Warming, Kyoto, and the Conservatives: Thinking/Moving Ahead" at a conference on global warming sponsored by the Woodrow Wilson Centre for International Scholars and the Canadian Embassy in Washington. He spent June in San Jose, Costa Rica, teaching a course on environmental security at the United Nations University for Peace as part of a program offered to graduate students.
---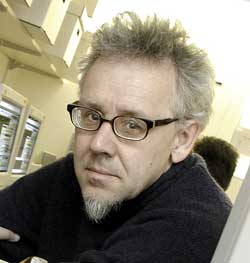 Sociologist Greg Nielsen, Director of the Centre for Broadcasting Studies, has been named the inaugural Fulbright Visiting Research Chair in Journalism at New York University. Through an analysis of newspapers in New York and Montreal, he will examine how journalists and others dispute such subjects as poverty, immigration and multiculturalism.
---
Elaine Arsenault (Counselling and Development) is taking a leave of absence from the university to pursue her writing for children. The Gypsy's Box, for children 10 to 12, will be turned into a six-part series by publishers Dominique et Co. The third book in her Passepoil series, aimed at children aged four to six, will be out this month.
---
Walter de Gruyter published an article by Michel Despland (Religion) aimed at a Muslim audience, titled "Women and Christianity." A translation in Indonesian is also published at Yogyakarta. The title of the English collection is Religious Harmony: Problems, Practice and Education.
---
Dance student Milan Gervais won a Frankie at the Montreal Fringe Festival for Best Dance Choreography, as seen in Le sixième s'est envolé. His prize is rehearsal time and a production this season at Studio 303.
Another student in Contemporary Dance, Dana Michel, was favourably noted on Aug. 15 by the Globe and Mail's reviewer when she performed in the Toronto International Dance Festival. Another publication, The Dance Current, said "her dances are gripping to watch and choreographically extraordinary."