Teachers want to learn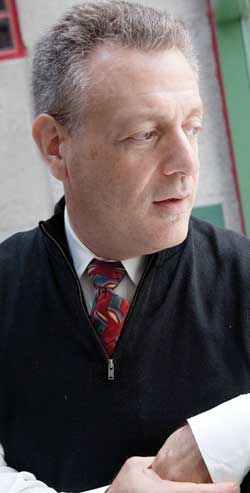 Those who care about teaching genuinely want to learn more.
That's what Saul Carliner (Education) concluded after an August follow-up meeting to a course design workshop he helped animate in the spring.
"I was surprised at how many of them had a lot of experience and wanted to get better," Carliner said. "They were all pretty committed teachers, and my guess is that they are already pretty good."
The nearly 30 participants devoted five full days last May to putting a course together. "I wanted to be able to improve my skills and deliver a better package," said accountancy lecturer Carmen Kuczewski. The workshop, offered through the Centre for Teaching and Learning Services, helped.
Kuczewski returned to Concordia to complete at EMBA six years ago. "I had held various management positions in industry and was ready for a career change. I knew I'd accumulated experience and I wanted a way to pass it on and help people." Returning to school led Kuczewski to a career at the front of the classroom.
Monika Gagnon has been teaching Media Studies for several years. Gagnon wanted to rethink her traditional expectation that students would produce a final research paper. Understanding that research practice had been drastically altered by the internet she questioned whether she was "achieving my pedagogical goals at the end of the semester when everyone looked so exhausted."
Working through her syllabus, she was able to "dramatically change the kinds of work students do throughout the term." She was also reassured to learn in the workshop that most new ideas take a few tries to get right.
All four faculties were represented among the workshop participants. Although course design was the order of business, it's clear that the opportunity to discuss pedagogy — everything from late assignments to styles of teaching — was appreciated. "As full-time faculty, I really only speak to my colleagues about administrative issues, or when there's an emergency that requires damage control. There is not much opportunity to discuss pedagogy," Gagnon said.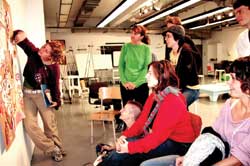 Linda Kay (Journalism) registered for the program two years ago. She had been teaching practical courses since 1990. The prospect of teaching her first theoretical course sent her to the workshop.
"When you're a part-time teacher, you don't have a lot of contact with everyone else." By the time Kay became a full-time tenure-track professor in 2001, she assumed everyone knew all about teaching and it was up to her to catch up. The workshop was an opportunity "to talk about teaching freely with other people who feel passionately about it." Kay continued to meet with her group of participants regularly for about a year. This year, she helped facilitate the workshop.
"I got some great ideas, I was taking notes myself," Carliner said. The workshop was so successful, it will be offered both in December and in the spring to accommodate more people.